Phillip Gaffney, the new athletics director at GHC, is preparing to usher in a new era of athletic excellence.
Gaffney is coming to GHC from Gilford Technical Community College in Greensboro, NC, where he also began an athletic program.
Gaffney's first coaching job was as an assistant coach at his alma mater, the College at Brockport State University of New York.
Now, he has 17 years of experience as a head coach, and 75 percent of his programs have been nationally ranked.
Since Georgia Highlands isn't getting intercollegiate sports until fall 2012, Gaffney is staying busy by focusing on having everything set up for next fall.
His first job is to set a budget for the programs and make sure that the facilities will be ready for the new sports, starting with basketball.
Secondly, he will be recruiting players and a women's basketball coach. Since this will be the first year that Highlands will have sports, Gaffney will be looking for 30 new players.
He's planning to attend showcases, where he will be able to see about 100 skilled players, and later this fall, he will be attending local high school basketball games to recruit from there as well.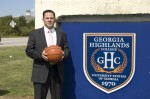 Gaffney is very excited about giving kids an opportunity for an experience they might not have been able to get elsewhere. He's looking for "good kids" and stressed that he wants them to "be great on the court and in the classroom."
The plan is to add one sport, a women's team and a men's team, every year, starting with basketball at the Floyd campus.
In fall 2013, Gaffney would like to have a baseball and softball team at the Cartersville campus. From there, the suggested sports are tennis, cross country and soccer, but no set decision on campuses or time periods has been made yet. Gaffney does want to "make sure everyone can get to the sports and participate."
Under Gaffney's direction, Georgia Highlands will join the National Junior College Athletic Association.