Persistence pays off for Demaurius Morgan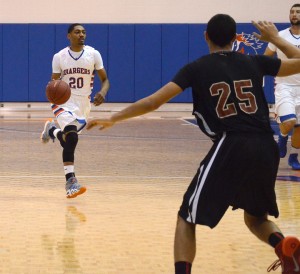 After years of being at GHC playing intramurals, Demaurius Morgan finally got his chance to play college basketball. In the GHC Chargers' inaugural season, Morgan tried out and made the team.
Morgan, 24, has been a Georgia Highlands student for the past five years.
After graduating from high school in 2008, Morgan wasn't sure what he was going to do until Jon Hershey, dean of humanities and director of Brother 2 Brother, helped him get into college here at GHC.
"Despite struggles and difficulties on and off campus that have slowed his progress, Demaurius has never given up," says Hershey. "He teaches all of us to remain strong and keep reaching for our dreams."
Previously, Morgan was trying out for basketball at multiple other colleges but was always turned down. Morgan stated, "I was told that I was either too short or just not the type of player they were looking for. It was like they were looking for a reason to say no."
Phil Gaffney, athletics director and head men's basketball coach, stated, "Demaurius is a great kid and a tireless worker.  He became a starter for us and was extremely valuable to the team in his role. Demaurius was instrumental in helping the program to rise within one point of the National Tournament. He will certainly be missed next season."
Morgan plans to transfer soon and pursue a degree to either become an English teacher or a health teacher—and to coach basketball however he can.