Former pro athlete Ken Irvin urges Georgia Highlands College basketball teams to put education first
Former NFL player Ken Irvin made a visit to the GHC Floyd campus Sept. 10 to talk to the Chargers and Lady Chargers basketball teams about the importance of hard work, never giving up and putting education first.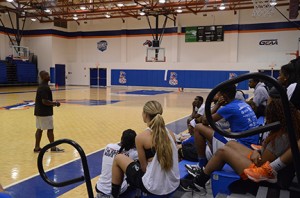 "A lot of people want to get to the top of the mountain, but they want to take the helicopter instead of climbing," Irvin said.
Irvin is a native of Rome. He graduated from Pepperell High School and went on to college at the University of Memphis. He later played in the NFL for 10 years. Irvin was a defensive back for the Buffalo Bills, the New Orleans Saints and the Minnesota Vikings before his career was ended by an injury.