Chargers, Lady Chargers split wins with Central Georgia Technical College
On Jan. 18, the Lady Chargers traveled to Chattahoochee Tech, and had a huge win of 81-25.
However, the Lady Chargers took on the Lady Titans of Central Georgia Tech at home on Jan. 14 and were defeated with a final score of 77-57.
The Lady Chargers' leading scorers were Va'Queshia Hall and Deana Blankinship with 11 points.
"I feel like the score indicates that we played a lot worse than we actually did," Brandan Harrell, head women's basketball coach stated.
The Lady Chargers are scheduled to take on the Lady Titans again on Sat. Feb. 14.
As of Jan. 21, the Lady Chargers are the fourth seed in the GCAA conference.
---
On Jan. 18, the Chargers took on Chattahoochee Tech. With a final score of 88-86, the Chargers gained yet another win for the season.
The 16-2 Chargers took on the Titans of Central Georgia Tech at the Floyd campus gym on Jan. 14.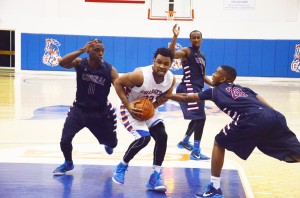 With a 15 point lead at halftime the Titans were kept on edge by the Chargers.
"I thought we played really well in the first half," said Matt Williams, assistant men's basketball coach.
The Chargers' Donovan Harris said, "We kept going hard until the end."
The Chargers were led to their 80-72 victory by Harris and Ty Toney with 15, Terrence Thompson with 13, Denzel Council with 12 and Taquan Givens with 10 points.
The Chargers are the second seed in the GCAA conference as of Jan. 21.