Every spring two students are chosen to represent their fellow graduates as student speakers for the Georgia Highlands' graduation ceremonies. These students have proven themselves to be notable and exemplary models of the Georgia Highlands student body.
This year's honored student speakers will be Kristen Mullis and Connor Hooper.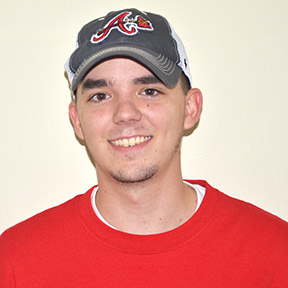 Hooper, a native of Rockmart and political science major, began his journey at Georgia Highlands in the fall of 2012 as a dual enrollment student.
Hooper's choice to attend GHC was not decided half-heartedly, but rather, assuredly as he followed in the footsteps of his father, mother and sister, each of which also attended GHC.
During Hooper's time at Georgia Highlands he has had the privilege of holding an announcer position for the school's basketball team and has broadcasted as "The Voice of the Chargers" in over thirty games in the course of two years.
Hooper, who is also a HOPE scholarship recipient, wishes that he had more time outside of work and keeping up his GPA to be more involved in school activities.
Hooper, who identifies himself as a regular guy, was humbled by the speaking honor and said, "I'm not your average student to get the speaking opportunity. I've only made the Dean's list twice. My GPA is 3.5, and I made a 79, C, in statistics once."
The biggest obstacle Hooper faced, as a student at GHC, was the death of his grandmother. Hooper stated, "That was the toughest time for me in my life. I lived with my grandparents, and my grandmother was instrumental in shaping who I am today."
After Georgia Highlands College, Hooper plans to attend the University of West Georgia. He is planning to major in political science with a minor in mass communications.
After graduating from UWG, Hooper plans on marrying his girlfriend currently of three-years, Hannah White, and has big dreams to work for a major news network and find his way into national politics.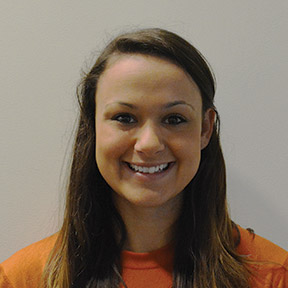 Kristen Mullis, a native of Cleveland, Ga., began her journey at Georgia Highlands in the fall of 2013 as a student athlete for the school's inaugural softball team.
Starting as a left fielder, Mullis helped her team to come in third at conference, a notable achievement for a first year team.
As a freshman at Georgia Highlands, Mullis was awarded Scholar Athlete on both the GHC softball team as well as the female with the highest GPA overall for the school's athletic program, finishing the semester with a 4.0.
Mullis, who has studied at both the Cartersville and Floyd campuses, will be graduating with an Associates of Science Degree in Biology. After graduating from Georgia Highlands College, Mullis will attend the University of Georgia where she plans to earn a bachelor's degree in biology.
After completing her bachelor's degree at the University of Georgia, Mullis plans to extend her education further by becoming a physician's assistant where she aspires to specialize in surgery or emergency medicine.
Traditionally, faculty members have held the honor of student speaker nominations, however, the graduating class of 2015 was the first to be granted the opportunity to nominate student speakers to represent their class.
In an effort to raise awareness concerning the turn in tradition for student speaker nominations, faculty started a campaign to inform students and staff at the end of last semester.
Tammy Nicholson, the vice president for student affairs, said, "Announcements that included the speaker eligibility requirements began in December with emails directly to graduating students and with GHC Inform posts targeting faculty and staff."
She continued, "Posters were printed and distributed for display at all GHC instructional locations. The Six Mile Post provided an ad promoting the process ahead of the deadline."
Once nominated, student information was sent to a speaker selection committee where numerical values were assigned to each of the nominees in various fields. The points for each nominee were then added to provide an overall rank from the committee and returned to them for review and approval.