Recruitment for 2015-16 basketball season underway
Basketball recruitment efforts are in full swing for the Chargers and Lady Chargers.
Recruitment is in process all year, but with the new school year just around the corner the push is greater now.
Recruiting begins at the beginning of the season with the coaches sending emails to prospective recruits.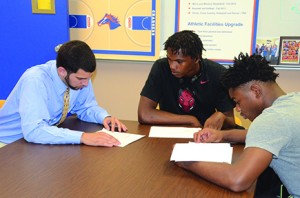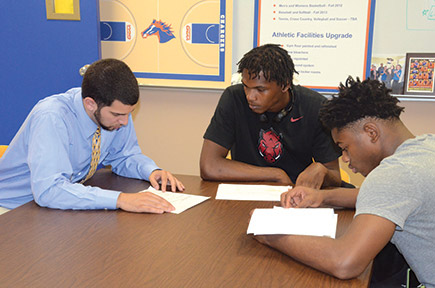 Throughout the year, the GHC coaching staff goes to tournaments and exposure events looking for new talent. When they find someone they like, the coaches bring them to Georgia Highlands for a visit and give them a tour.
With five sophomores moving on from the men's team, there are spots that have to be filled.
"Recruitment is going very well so far," stated Matt Williams, assistant men's basketball coach. "We haven't signed anyone so far, but we have a number of prospects."
"We had a list of kids we were looking at before we made it to the Final Four," JJ Merritt, assistant men's basketball coach and Floyd intramurals director, stated. "After the Final Four, it opened up a whole new class of athletes to recruit. Some are even from Division I schools," he said.
The Lady Chargers' coaching staff is also working hard to bring in new recruits.
With eight sophomores moving on next season, there are plenty of spots that need to be filed.
"So far things are going good," says Demetrius Colson, assistant women's basketball coach. "We have four verbal commitments and are looking for about three more players." The Lady Chargers also have three local students as walk-ons.
"Our coaching staff really looks for students that will do well at our school," says Phil Gaffney, athletics director and men's head basketball coach. "Not only do we want good talent, but also good character."