GHC alumnus Antonio Garcia heads to Cannes, France
Antonio Garcia, an alumnus of Georgia Highlands and former Six Mile Post, managing editor, online, has recently set out on a new adventure and created his very own film that is headed to the Cannes film festival.
His film is called "Vue de Moi." He says the official description is "A lonesome man reflects inward as he wanders the streets of the city for the perfect spot."
Garcia stated, "I do not want to spoil anything, but it shows just how ridiculous a common thing is in today's society in a lighthearted way."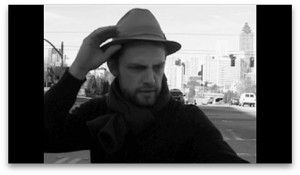 Garcia said he has been greatly influenced by the way people like Jean-Luc Goddard and Francois Truffaut made their films, after he studied French New Wave Cinema. He wanted to create a highly improvised, location shooting, jump-cutting, shaky camera film like they would have.
 The first step to Cannes was entry into a film festival for Campus Moviefest at GSU. This is a film festival that travels to colleges all over. They rent out equipment to get the students started at no cost, then they have a week to create their films that are no longer than five minutes.
After the film is created, the top 16 move on. Then only four are picked, in which they are judged in Hollywood. Garcia's film placed in the top four, and his film was chosen to be shown in a film festival in Cannes, France.
Garcia said that he has always had an interest in telling stories, even from a young age. He had a major shift in high school from wanting to be an aeronautical engineer, to doing something he loved, which was visual storytelling.
Garcia was double-majoring in film and journalism, but he was recently accepted into a dual-degree film program. This will allow him to graduate with a Master's in film much sooner, so he decided to focus on film.
Donations to help his endeavor to go to France can be made at http://www.indiegogo.com/projects/send-struggling-film-student-to-cannes/x/10415497 and students can watch his film in the video below.