Devery Broox shares wisdom through poetry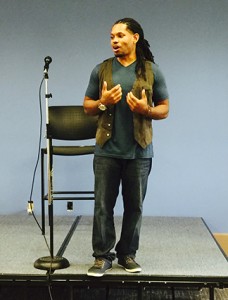 The Solarium in the Floyd student center was bursting with the poetic rhymes of Devery Broox at noon on Sept. 9.
Now living in Orlando, Fla., Broox was willing to travel all the way to Georgia Highlands College in Northwest Georgia to share his ideas in a lyrical cadence. Having so many emotions in his head, he said he felt it best to write his emotions on paper, choosing to rap them for audiences all around the South.
When first arriving at the event, Broox made sure to go around and introduce himself to every participant; soon there was no stranger in the crowd.
He quickly began his performance with a song, "Good Times." This got the crowd singing and smiling, familiarizing themselves with the song.
Then Broox got down to business when he performed the poem, "I Wanna Read the Bible," which spoke of the hypocrites of the world. That poem was followed by "The What If's," a poem customized for GHC students. In his rap, he said, "Standing out makes you a target" and emphasized that people must overcome negative statistics in order to live life how they want to.
Another poem that seemed to resonate with the student crowd was "We Are Just Pretending." The poem spoke of couples who were in relationships physically, but not mentally. It spoke of people having one foot out the door in a relationship when they either need to be all in or all out.
"You can't put cocoa butter on emotional stretchmarks," Broox raps.
One of Devery Broox's last poems, "His Story," shared his journey of finding his culture. He has struggled to define the culture in his life and isn't sure if he ever will completely find it. He spoke of all the great African-American leaders and visionaries, from Martin Luther King Jr. to Rosa Parks fighting for equality on the bus. Broox's passion radiated through the appreciative crowd.
More information about Broox can be found on his Instagram: @TheWordProblem.