GHC Chargers basketball teams on a roll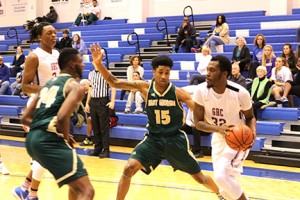 The GHC Chargers men's basketball team are now 20-1, ranking second in the NJCAA national ranking, after their win over the Atlanta Metro College Trailblazers on Jan. 24. They pulled away in the second half with 85-66 as the final score, making it their 20th straight victory. The Chargers are now 8-0 in the GCAA conference, giving them first place in conference play.
The GHC women's basketball team is doing well, defeating Atlanta Metro College 63-41 on Sunday, Jan. 24. The Lady Chargers were also perfect at the free throw line, 7 for 7. The team is now 15-8 in game play, and 8-1 in conference play, making them second in the GCAA.
Both teams' next home games are on Saturday, Jan. 30, versus conference competitor South Georgia Tech. The women tip off at 2 p.m. and the men start their game at 4 p.m. Students get in the games free with their student ID.