GHC Chargers baseball starts strong at Lakepoint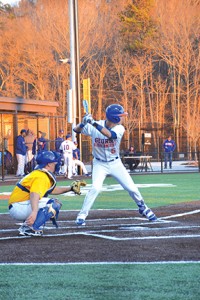 The Georgia Highlands baseball team played their home opener against the Surry Community College Knights on Feb. 5 at the Lake Point Sports Complex.
The Chargers started the game with high intensity, going up by 3 runs in just the first two innings. The Knights were having difficulty containing the energetic Charger offense.
The Charger defense also displayed great communication through the first four innings. The Chargers' pitcher, Bryan Quillens, pitched with confidence with the support of his teammates.
Brandon Bell, third baseman, was the leadoff batter for the Chargers. The freshman did not disappoint the fans with his consistent hitting. He gave the fans a treat when he hit a triple straight down the right centerfield line.
The Knights were finally able to score in the fourth inning. However, the Chargers quickly shut down the Knights before they could capitalize on their momentum.
By the end of the fifth inning, the Chargers were up 4-1 over the Knights. However, it was too early to count out the Knights. Surry managed to score in the sixth inning, closing the gap between them and the Chargers.
Going into the seventh inning, Surry tried to mount a comeback with consistent singles from their batters. The Knights put pressure on the Chargers' defense with loaded bases.
Coach Mike Marra made a decision to bring in Sam Sowerbrower, a left-handed pitcher. Sowerbrower was able to stay calm in front of the next two batters from the Knights, and with the help of the defense, the Chargers managed to get the two outs to stop the rally by the Knights.
At the end of the game, Sowerbrower said, "The reason I was able to stay calm was because of the trust I had in the defense behind me."
The Chargers held the Surry Knights at bay for the rest of the game, which ended with a score of 4-2.
After the game, Marra stated that the keys to the Chargers' success were "the pitchers and the outstanding defense behind them."