GHC Lady Chargers end tournament run against Gulf Coast State
The Lady Chargers lost their second tournament game against Gulf Coast State. The final score was 71-64.
The team was behind for most of the game and despite making a comeback in the last quarter, where they were down by just 2 points with 1:31 to go, they were unable to take the lead.
With this loss, the Lady Chargers are out of the tournament.
_______________________________________________________________________________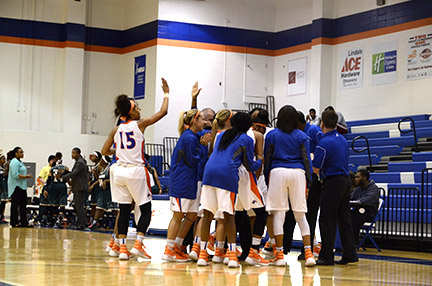 Georgia Highlands Lady Chargers won their first NJCAA Division I Women's National Tournament game against Gillette College with a final score of 72-53. The Lady Chargers opened up the game with a 14 point lead at the end of the first quarter, which they were able to carry throughout the game. Their next game is Tuesday, March 15 at 3 p.m.
_______________________________________________________________________________
The Lady Chargers are competing for the first time as the 16th seed in the NJCAA National Women's Championship in Lubbock, Texas. The team won their first game on March 14 against #17 seed Gillete College, 72-53. The NJCAA Championship is a 24-team tournament made up of the best teams in the nation.
After winning the regional championship, the Lady Chargers, with a conference record of 14-2, won the NJCAA District J Championship game against Spartanburg Methodist College March 5 with a final score of 76-43. This win secured the team a spot in the NJCAA National Tournament.
The Lady Chargers started off their tournament play by competing in the NJCAA Region 17 Women's Tournament. The team won their quarter-final game Feb. 23 against East Georgia College at home with a final score of 78-52. The team then travelled to Americus on Feb. 26 to take on Darton State, winning the semi-final game 75-59.
The Lady Chargers won the Region 17 Women's Championship in a close game against South Georgia Tech on Feb. 27 by a score of 65-63, becoming the first GHC women's basketball team to win the tournament.
After the game in Spartanburg, S.C., Coach Brandan Harrell shared his thoughts on his team's performance. "We really played well," Harrell said, "especially in the second half." Harrell went on to discuss his sophomore players. He said, "I can't say enough good things about them and their work ethic and leadership. All six were huge contributors to our success."
Individual team members received awards this season, as well. Kayla Carter and Deashia Jones were named to the 2016 GCAA All-Tournament team, with Carter receiving the title of Tournament MVP. Carter and Deana Blankinship were also named to the GCAA First Team and Second Team, respectively.