Depth sets the 2016-17 Lady Chargers apart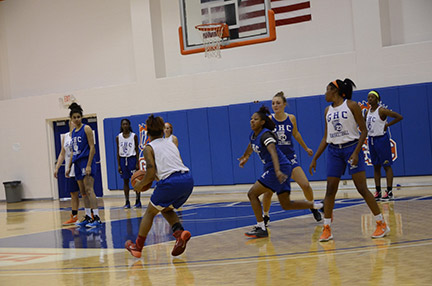 Brandan Harrell, women's head basketball coach, has been at Georgia Highlands College since the inaugural 2012-13 season and is looking forward to a great 2016-17 season.
The Lady Chargers ended last season with a 26-10 record, winning their first regional championship and making their first appearance in the NJCAA national tournament.
Harrell believes that this season's team is going to be a great one. He said these women are a "fun group" to coach and are also very talented.
"There is talent, but the ultimate success will be based on how we work as a group," said Harrell.
He believes that the team will have to work hard to uncover the talent that they have.
Harrell said this year's team will be the deepest team yet. There are about 10 players who will be able to play for a lot of minutes.
Harrell believes that this depth is what sets this year's group apart from previous teams.
There are five returning players from last season—Pam Diokpara, Sydney Garnigan, Maria Crider, Taylor Harris and Taylor Farley— as well as five new transfer players.
Harrell's biggest concern is multiple injuries, which could set the team back and make him depend on the younger players.
Before coming to GHC, Harrell served as the head women's basketball coach at South Georgia Technical College, starting with that program's inaugural season in 2004.
The Lady Chargers' home opener will be Tuesday, Nov. 8, at 5:30 p.m. against Gadsden State in the Floyd campus gym.