Returning Lady Charger hopes to gain even more experience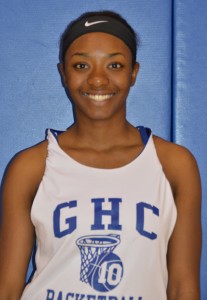 Pam Diokpara, born in Nigeria, is a returning sophomore to the Georgia Highlands College women's basketball team and is looking forward to the 2016-17 season.
Diokpara expects to be "gaining experience" this season. She hopes that the Lady Chargers will go farther than they have in previous seasons and win the NJCAA national championship.
Diokpara said that in order to achieve this goal, the team must "display effort and have confidence that we can win."
She believes there are a lot of signs that show that this goal is possible for this year's team.
There is more depth this season, according to Diokpara. There are several players who will be able to play a lot of minutes.
There are also several sophomores on this year's team. This means that they know and understand the pressure of playing at the college level.
Diokpara also believes that there are some cons to this year's team.
There are only five returning players, and this means that the rest of the team does not know much about what it is like to play at GHC's level. Diokpara said it is a "learning process" for them. There is also uncertainty about who will get playing time.
Diokpara moved to the United States at a young age and was raised in McDonough, Ga. Diokpara fell in love with basketball early in life. Her father took her to a University of Georgia women's basketball game, and the rest is history.