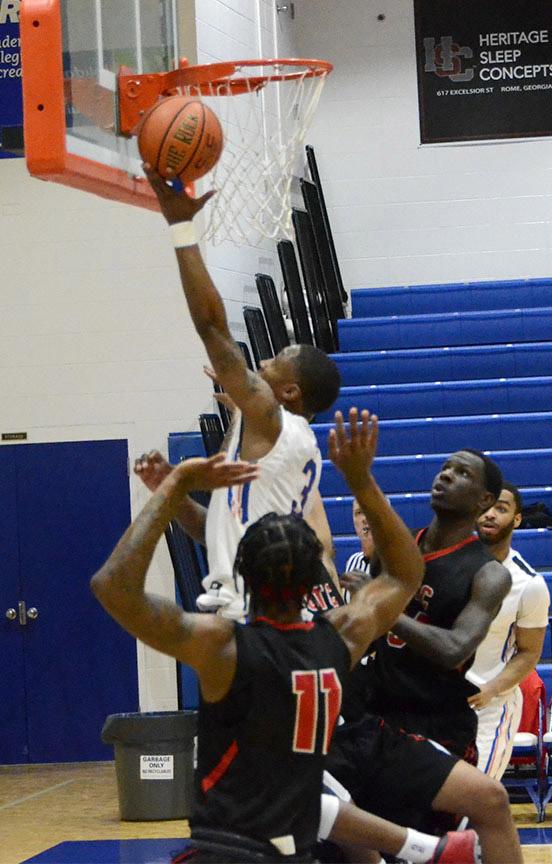 Georgia Highlands Chargers defeated South Georgia Tech 87-82 at home on Jan. 10 to win the team's first conference home game of the season.
At the half, GHC was down 37-36.
Demarcus Addie contributed 21 points for the Chargers' win and TaJuan Johnson had 16 points, five rebounds, five assists and five steals.
Phil Gaffney, head men's basketball coach, said that he feels good about how the Chargers performed during this game. "South Georgia Tech is a very good team. This is the team we played against in the championship last year. It's good to get a win over them tonight."
Gaffney said that South Georgia Tech was in first place in the GCAA conference prior to this game. He said, "They have played one more game than us. They were undefeated. Now with this win, us and Gordon College are going two undefeated. That's good because we are tied for first place."
D'Andre Bernard has been out recently because of a finger injury. Gaffney said that once he returns, GHC will be even stronger. Gaffney said, "Tonight we got beat on the glass a lot. D'Andre will make a big difference when he comes back."
Addie believes that he performed well during this game. About going forward, Addie said, "I feel like we have a good chance in the conference to stay undefeated."
The Chargers' next game is Jan. 13 at 4 p.m. against South Georgia State. Their next home game is Jan. 17 at 7:30 p.m. against Albany Tech. Follow the Six Mile Post on Twitter @6MilePost for updates.