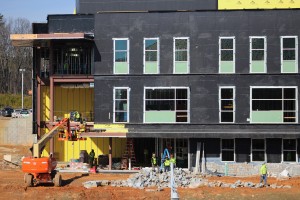 Students have witnessed many changes in the 2017-2018 school year. One major change that has been on the minds of many students is the new building going up on the Cartersville campus.
A new building has been under construction since the summer of 2017. It will be known as the STEAM building, meaning it will house classes focusing on STEAM fields: science, technology, engineering, art, and math. Currently, there is not much room for science and computer labs across all GHC campuses.
This new building will double space for these types of classes as well as staff offices. There will even be an art studio on the third floor. It will also include more student study and lounge areas. There is hope that this new space will allow an expansion in the four-year programs GHC can offer.
Cartersville campus Dean Leslie Johnson said, "Construction will be complete by the beginning of September 2018." This does not mean classes will take place there immediately. Computers and other electronics will still need to be put into place. Some fall classes may be moved into the new building after midterms.
Johnson stated, "The groundbreaking ceremony occurred last spring, but no ground was actually broken until the summer." Despite these setbacks, she assures students that "we are a little ahead of schedule from getting a late start." The new STEAM building should be open to all students by January 2019.