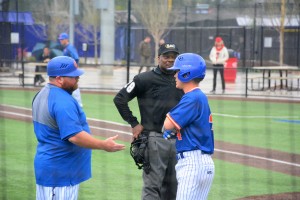 The Georgia Highlands Chargers baseball team defeated Sinclair Community College 7-3 on Feb. 25. GHC has won two out of their three games over Sinclair Community College from Dayton, Ohio.
Highlands started out strong with Skylar McPhee hitting a fast ball with bases loaded. McPhee gave GHC a score of 1-0 in the bottom of the first.
Bryson Horne hit a solid ball with bases still loaded making the score 2-0.
Mathew Norton pitched a solid fastball stopping Sinclair from scoring in the top of the second. In the bottom of the second, bases loaded, Blake Brady hit deep into the outfield and made the score 3-0.
Dash O'Neill, Chargers head coach, was overall very pleased with his team this weekend. O'Neill stated, "Sinclair is the number ten team in the country and we were able to win the series against them."
O'Neill continued, "I feel like we could've swept but we had a couple opportunities get out of our hands last night. I am incredibly proud of my guys."
O'Neill said, "Matt Norton did exactly what we needed him to do and he gave us a great start."
Norton said, "I thought my performance was good. The team played very well behind me. It was a great day."
Sports Update
As of March 13, the Chargers are 17-7 for the season after defeating ABAC 14-1.
The team's next home game will be on March 26 at 5 p.m. against ABAC.