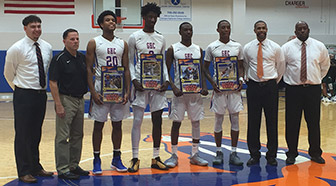 The Chargers men's basketball team ended their season with an overall record of 20-10 and a GCAA conference record of 13-3.
GHC fell 103-99 to South Georgia Tech on March 9 at the NJCAA Region 17 semifinals at the Floyd campus gym to wrap up their season.
Prior to this game, the Chargers defeated Andrew College 91-76 at the NJCAA Region 17 quarterfinals game on March 6 to advance to the semifinals.
About his team's season, Phil Gaffney, head men's basketball coach, said, "On the whole, we're happy. We won 20 games. We were nationally ranked. We won our regular season conference championship."
Gaffney continued, "For most people, that's a tremendous year. We're actually disappointed because we wanted to go to Hutch." Hutchinson, Kansas, is where the NJCAA Division I men's national tournament takes place.
Gaffney said that GHC got better as the season progressed and the team lost most of their games this season during their first semester of play.
According to Gaffney, even though the Chargers lost the regional game, if they had lost four or five fewer games during their first semester, they would have received an automatic bid to play at the NJCAA national tournament.
"The season just didn't end the way we wanted it to. We'll figure out what we did wrong and get it better next year," remarked Gaffney.
AJ Banton, freshman guard, said, "We came a long way. At the beginning of the season, it was way different. We could see the potential but we weren't quite there yet."
Banton believes that there is not much the Chargers could have done differently but did note that GHC did not always play as a team this season, especially in the second half of the season.
"I feel like we played our butts off. We have to learn from it and keep moving forward," said Banton.
D'Andre Bernard, sophomore forward, said, "At the start of the season, with myself being the only person returning and AJ having redshirted last year, there were only two or three guys that actually understood our coach's philosophy and what he expected from us."
Bernard said that getting all of the new players on the same page was tough.
"Overall, I think it was a good season seeing how much progress we made. Honestly, I couldn't be more proud of the guys," said Bernard.
Gaffney said that several players from this season's team will be moving on to Division I colleges. About this, he remarked, "That's great. We're glad some guys are graduating and moving on to Division I."
About next season, Gaffney said that they have not signed any of the current players back yet. "We'll wait and see how they do grade wise and what our needs are and see what they're doing," he said.
Gaffney continued, "We have a lot of guys that can leave and a lot of guys that can come back. We want what is in their best interest."
Gaffney said that with redshirts, there are nine eligible players that can come back to GHC next year.
Gaffney said, "Realistically, that's not how many are going to come back. Some of these guys are going to move on to other schools."
In addition to the nine eligible players that can come back, GHC has already signed three transfer students to play next year.