Former Charger Ty Toney plays pro for Portuguese team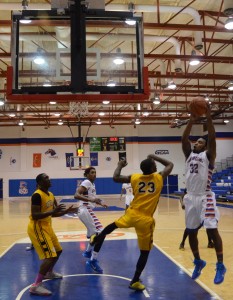 Former Georgia Highlands Chargers men's basketball player Ty Toney has signed a professional basketball contract for Portuguese team Esgueria Basket. The team is playing in the top level of professional basketball in Portugal.
Toney played high school basketball at Alpharetta High School in Alpharetta, Georgia, where he was a 1,000 point scorer and averaged over 30 points a game.
Toney went on to play at Appalachian State his freshman year.
He then transferred to Georgia Highlands, where he played the 2014-2015 season.
Toney averaged 17.8 points per game during his lone season with the Chargers, and he earned NJCAA All American Honorable Mention accolades while going to the Final Four of the NJCAA Division I Men's National Basketball Championship.
After having a breakout season at Georgia Highlands, Toney then accepted a scholarship offer to Eastern Michigan University.
Toney played the remainder of his college basketball eligibility at Eastern Michigan, he was a full-time starter during his two years.
According to Eastern Michigan's website, Toney averaged 11 points, 3.2 rebounds, 2.9 assists and 1.6 steals per game.
"I'm happy for Ty. He's a great kid, and it's wonderful when kids reach their dreams. He got his degree from Eastern Michigan. So after he's done pursuing his dream of pro basketball, he can go use his degree and get a regular job," said Georgia Highlands Athletic Director and Head Men's Basketball coach Phil Gaffney.
David Mathis, assistant director of athletics for Georgia Highlands, said, "Ty was a tremendous player while at GHC and led us to our first NJCAA Region XVII championship. He graduated and had a great career at Eastern Michigan University. All of us at GHC are proud of his success on and off the court."
Toney is the second former Georgia Highlands basketball player to sign a professional contract.