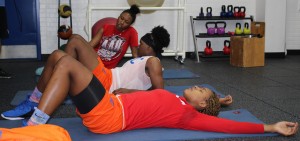 The Lady Chargers finished the 2017-2018 season with 19 wins and 13 losses. This year's team is full of sophomore players and three players returning from last year's team, Sharai Lay, Ja'lyn Reese and Cierrah Perdue.
According to Brandan Harrell, head women's basketball coach, "This year the team is very focused, and they are a little bit tougher too."
When asked if there are any star players this year, Harrell said, "We are sophomore heavy, so we have a lot of players who can play at a high level.  We really are not centered around one or two players who can score the ball."
Harrell also spoke on the long term and short-term goals of this team. "Our biggest one is graduating everyone, of course. After that, I would say to get to the conference championship then to the national tournament," Harrell said.
He offered one small but important short-term goal: "To get better and better every day is really important, and so far, I think we have done that."
The Lady Chargers' first home game is Nov. 14 against South Crescent Tech.