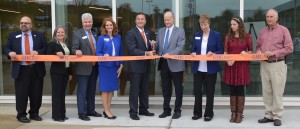 The ribbon cutting ceremony for the  $22.5 million STEAM building was on Oct. 16 at 4 p.m.
GHC President Don Green welcomed the over 300 attendees to the ceremony.
The ceremony was followed by an open house reception on the second floor and guided tours of the STEAM building to all who attended.
The first floor of the new building will be used by the mathematics and computer science divisions. Divisions that have space on the second  floor include social science, business, education and humanities and the third floor houses health sciences, natural science and P.E.