Lady Chargers gallop into a new season
After a grueling 11-month offseason, the Lady Chargers started their season on Jan. 21. The offseason was riddled with questions about whether there would even be a basketball season due to safety concerns about COVID-19, but in the end, the Lady Chargers are getting their basketball season.
They have played three games so far and are at 2-1. After falling to Chipola College in their season opener, the Lady Chargers have won their last two games against Pensacola State College and New Horizon Prep.
Head Coach Brandan Harrell described the offseason as being "weird," because, "After doing the same thing for 17 years, this year is definitely different. We are all having to adapt and figure out a new formula, but the players have handled the adversity like champs."
Coach Harrell is entering his ninth season as head coach for the Lady Chargers, compiling a coaching record of 171-90 at GHC. Harrell was able to lead the Chargers to the GCAA Finals game last season before losing to South Georgia Technical College.
Incoming freshman, Jashanti Simmons, says that if she could sum up the offseason in one word, it would be, "Motivational. Because when we all started, we were always giving each other words of encouragement and lifting up each other."
So far this season, Simmons leads the team, having scored 20 points per game. Forward Sasha Shishkina is close behind, averaging 18.3 points per game. O'Mariyah Tucker and Jameah Alston are tied for the team's leading rebounder spot, with 5.3 for each of them. Starting point guard ShaoTung Lin leads the team with nine assists per game and has been able to average three steals per game as well.
The top four scorers on Harrell's team last season are no longer with the team, but ShaoTung Lin, O'Mariyah Tucker and Sasha Shishkina are all returning after playing significant roles in the team last season.
Tucker says that this year's team's biggest strength is, "Our ability to shoot the ball and score," and that the team's biggest challenge coming into the season is, "Working together and being a bunch of individuals on the court."
Coach Harrell's personal goal for the season is, "For each player to play at their highest level and to get the most out of each of them."
"I'm excited for the chance to see these girls play," said Harrell, "There are a lot of kids that won't get that chance."
Leave a Comment
About the Contributor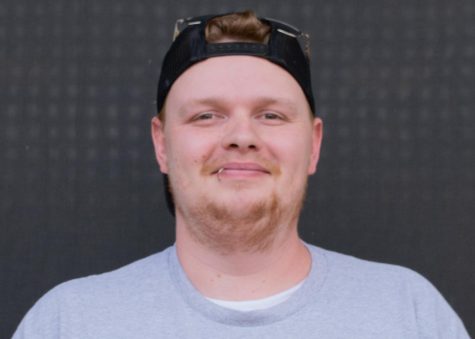 Brandon Dyer, Sports Editor & Podcast Host
Sports editor Brandon Dyer strives to become the next big thing in journalism. He has been a part of the Six Mile Post staff for four semesters and wants...