Winn Building unveiled at Paulding Campus
On Sept. 28 at 10 a.m., the GHC Interim President, Dana Nichols gave a welcome speech in front of the Winn building at the Paulding campus to a crowd of GHC faculty, students and other community members. After the speech, Nichols proceeded to cut the ribbon, symbolizing the opening of Paulding campus' newest building.
The ribbon cutting was then followed by tours of the Winn building along with complimentary food and refreshments. The event gave attendees the chance to see the building.
"This project was made possible with a total of $4.1 million in state funding," Nichols said.
The building was a former bank which was gifted to GHC in 2010 from the city of Dallas.
"It's been several years now … but it was definitely worth the wait," assistant professor of communications, Alex Reiter said.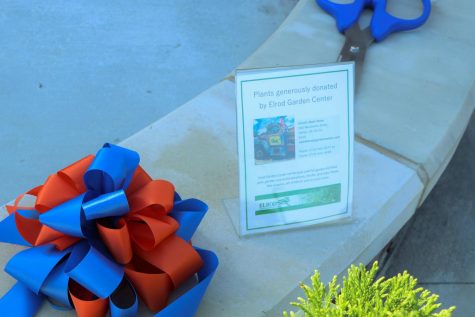 The Winn building is named after Henry Winn, a prominent Paulding citizen and former Paulding County Commission Chairman. It was initially going to be called the Henry A. Winn Community Development Center.
"I like the building's prominence, it really showcases our presence with the beautiful signage," Reiter said.
"I enjoy looking outside when I work, so I really love the windows," said Adama Darboe, biology major.
The Winn building has many windows that view the road and sidewalks and give natural light.
"It's gorgeous," Reiter said.
The building has given the campus new resources and space to expand. It is equipped with a fitness center, new study rooms, social areas and a wet lab.
"We have a state of the art [science lab] now at the Winn building." Nichols said.
The wet lab allows a wider selection of courses at the Paulding campus. These include biology, chemistry and other science courses.
"It's really going to help our community tremendously. Students can now take science classes that require labs here without going to Cartersville or Floyd," Reiter said.
Darboe said the new building is "really inclusive and convenient for students. You don't have to go off campus or go far to find everything you need."
Leave a Comment