Film Society Club now accepting new members
The Film Society Club has been officially approved for the spring semester of 2022. The club will serve as the creative meeting place for all students — not just film majors — to congregate and share in their love of everything cinema.
The first official meeting of the club took place on Thursday, Nov. 4. The vision of the club was presented to the four students that attended. The club will not have any official activity until the second meeting on Dec. 2 at 2 p.m., where officer elections will take place. Officer positions include president, vice president, secretary and treasurer.
Floyd campus student and film production major, Damon Self, is the current acting president of the club and expects to officially hold the position once the club is fully formed.
The idea was initially proposed by Tristen Tolbert, former president of the Student Government Association and current Floyd campus gaming club president. He is expected to become the Film Society Club's vice president.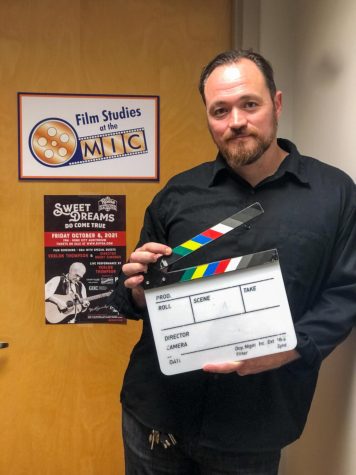 The faculty adviser for the club will be Seth Ingram, Division Chair of Film and Theater, as well as the Executive Director of the Rome International Film Festival. Ingram hopes to put the approved SGA budget to good use by funding student film projects and hosting a film festival for GHC.
Film studies is "very new to this school, and I know there are a lot of creatives," said Self, "There are a lot of hidden talents out there that people don't even know that they have yet."
"We'll let the students run the show," said Ingram, "so I want to just throw out the ideas to them and let them pick and form what the projects that we focus on are."
Possible activities for the club include hosting film screenings, bringing in special guest speakers from the film industry and having students create their own short films.
"Another option," Ingram said, "will be for students to attend film festival screenings or maybe go to some conferences that are focused on the film industry."
Ingram, Self and Tolbert, who are all leading the Film Society Club, are also closely involved with the Rome International Film Festival.
"For novice filmmakers," said Tolbert, "the festival is the place to go."
The RIFF affords many opportunities for networking and showcasing for up-and-coming film industry workers. This year's RIFF took place Nov. 11 to 14 and will return next fall.
Self and Tolbert said the film industry has a plethora of skills that can be applied outside of the industry. Networking, equipment training, video and audio editing, creative writing and teambuilding. According to Tolbert, now is the right time for interested individuals to get involved.
"Even if you're not interested in going into film production as a career, there's still a love of cinema and I think that's shared across any discipline . . . We really don't want this to be exclusively for film students," said Ingram.
Students who are interested can contact Seth Ingram at [email protected].