College TV station holds potential for Georgia Highlands students of all majors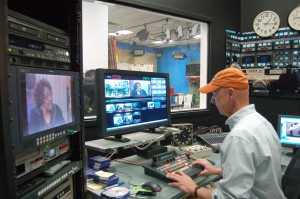 Georgia Highlands' cable network station, GHTV, is looking to expand by getting more students, faculty and staff involved.
Not to be confused with what is shown on the televisions on the Highlands' campuses, GHTV is provided by Comcast to the Greater Rome Area and all of Georgia by AT&T U-verse.
The station was first called FCTV after Floyd College but was changed to GHTV after the college underwent its name change to Georgia Highlands in 2005.
Carla Patterson, former FCTV coordinator, said the college TV station started operations under George Pullen, former division chair of extended learning, on Sept. 6, 1994 and will be celebrating its 20th anniversary in September.
GHTV is currently run by Jeff Brown, director of digital media services, and Justin Sucre on the Heritage Hall campus in Rome.
Sucre stated, "The television station is used for learning purposes. We want to keep students educated and people up to date with events happening in the community."
GHTV programs include course lectures from professors, campus tours, orientations, professor introductions and feature videos on faculty, staff, students and athletes.
The network also shows community and state events, campus entertainers, other campus and student life events, along with programs providing insight into art, history and literature.
Brown said, "We feel like students do not know we exist due to our location at Heritage Hall. They may think that we are a part of the nursing department (which is also located at Heritage Hall), but we are not. One of the reasons for our location is Comcast being right around the corner."
GHTV currently has two ongoing series. "Community Watch," with hosts Jon Hershey, dean of humanities, and Greg Shropshire, president of the 100 Black Men of Rome, has been on air for almost 10 years. "Coffee Break" hosted by Susan Claxton, coordinator of human services, has been up and running for about two years.
"In the process of getting more faculty and staff involved, we really hope to increase student involvement. GHTV has so much potential for students going into communication, marketing, art, graphics and design, media and several other careers," stated Brown.
Sucre and Brown believe it would also be a great idea to form a student organization around GHTV.
Brown said, "Students can create and film videos, post them and send them out to the cable provider, and we would just be the advisers, offering advice and assistance when needed."
Students would be able to set up the cameras, finding the best angles; create the scenery, including the background and props; test the sound and the lighting; ask interview questions; operate the controls on the switchboard; direct and edit footage; and create graphics, along with several other things just as Brown and Sucre do now.
GHTV also has an online YouTube channel called GHConlineTV. Some videos can be found and viewed more quickly here than they can on the television station.
Students, faculty and staff interested in being involved with the television station should contact Brown at [email protected]
GHTV can be seen daily except for between 5 p.m. and 11 p.m. by Comcast subscribers in the Greater Rome Area on channel 4 and by AT&T U-verse customers in Georgia 24/7 on channel 99.