Sister act duo performs at Floyd campus
The Student Center filled with students as the sister act duo Adelee & Gentry performed at the Georgia Highlands Floyd campus on Sept. 11.
Both the Georgia Highlands Floyd and Cartersville campuses were a part of the duo's college campus tour to advertise their music and promote their first album "Nice to Meet You…"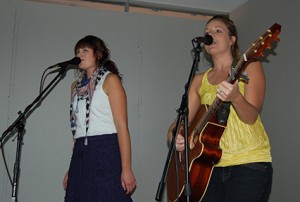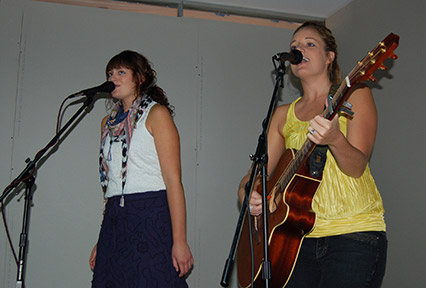 "I started learning music at the age of 10 and when Gentry turned 15, I taught her how to harmonize. After that we started to sing and play at coffee shops, which eventually led to recording," said Adelee.
Their first album "Nice to Meet You…" is composed of 12 original songs.
Aside from producing their album, the girls were featured on Billboard's The 615, which is a feature on billboard.com where the readers can learn about the latest in country music as well as be introduced to some of the newest hits.
"We were so excited when we found out we were on The 615. We were right between Rihanna's new hit and Gavin Degraw's new album," the girls said.
The students reacted positively to the singers and showed interest in their music as well as their new album.
"They are really talented and they sound great," said Tomyus Price, physical education major.
If students want to catch more of their music, they should check out their YouTube Channel as well as their article on Billboard:
https://www.youtube.com/user/adeleeandgentry
http://www.billboard.com/articles/columns/the-615/473969/615-spotlight-adelee-gentry-pop-out
The duo is hoping to release a single soon and another EP between January and April.
The Floyd student center, where the sisters performed, is currently being renovated.