IT now working to solve problems at Douglasville computer Hub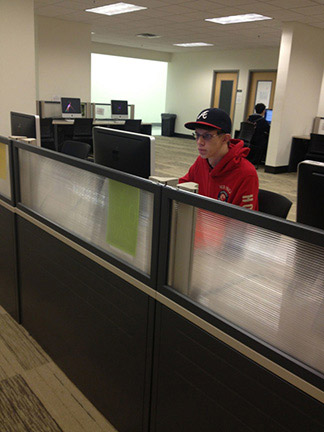 Frustrations mount on the Douglasville campus as an issue plaguing the school's Hub has left many computers unavailable and students in a pinch.
The Hub is an area on Douglasville campus that houses 16 computers that are designated for student use.
The issue, which began with the fall term, lies in the Hub's network. As computers sit idle, they fall from the network and students are helpless to access them until the school's IT personnel is able to address the problem.
Spotty availability, which has now persisted halfway through the term, has left many students wondering why the problem has yet to be fixed.
"It is an obvious shortcoming of the school's vision for information technology," said Seth Ransom, general studies major.
Information technology staffer for the Douglasville campus, Roderick Stidum, helped to shed light on the source of the problem. Stidum said, "We are testing a new platform to deliver a more secure environment for access to students' resources."
He stated, "The issue of iMac desktops falling off a network is a known issue with iMac's and OS X operating on a Windows based network infrastructure."
According to Stidum, the server team is actively trying to find a solution to the problem.
He continued, "We are considering a temporary fix in the meantime which entails configuring Hub desktops for Auto-log-on, meaning no network log-on credentials will be needed to access the desktops while still requiring credentials for email, D2L, etc."
For students like Jack Deakin, a general studies major, a solution cannot come quickly enough. "Students depend upon those computers to complete their work, and without access to them their grades will suffer," Deakin said.
While there is no definitive timeline for the Hub's issues, Stidum said, "Students need to continue to notify on-site IT personnel or send an email to [email protected] whenever this happens so that it can be fixed."
He continued, "But also on the desktop is a 'Feedback' icon on the lower left side of the screen that goes to its management about this new platform."