The Chargers defeated the Grizzlies of Butler Community College in the first round of the NJCAA tournament with a final score of 88-86.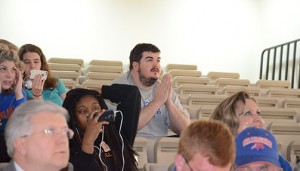 With the lead changing between both teams, the Chargers took BCC into a stressful overtime at 76-76.
The Chargers were able to come out on top with back-to-back three pointers from Ty Toney, who was the leading scorer for the Chargers.
With this win the Chargers advance to the next round of the NJCAA tournament to take on the number 3 team in the nation, Southern Idaho.
The game is scheduled for Wed., March 18, at 6 p.m. central time, meaning 7 p.m. eastern time. For a live stream of the game visit NJCAA.org.