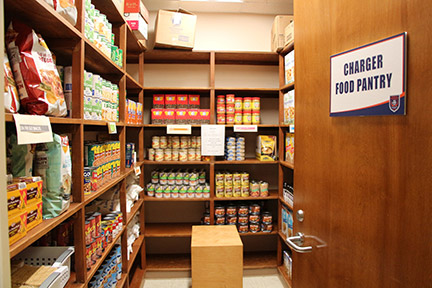 The Charger Food Pantry, located in student services, had their grand opening on March 14.
Angela Wheelus, director of student support services and counselor at Floyd, Douglasville and Heritage Hall, said, "There was a study done among college students. It said that one in five students went hungry in this past month, and one in ten students have been homeless."
With the desperate need of assistance for underprivileged students, a few interns, students and Angela Wheelus founded the Charger Food Pantry.
David Baker, Jane Phillips and Vincent Moreno, who are interns at Georgia Highlands College, researched models of pantries at other colleges.
Human services students and Damaris Wilson created food pantry protocol and a training manual for volunteers.
Students are encouraged to volunteer for the food pantry. Tina Noles, president of human services club and volunteer for the pantry, stated, "The human services club is about helping others and taking part in the community. I can't think of a better way to begin helping others than to volunteer at the GHC Charger Food Pantry and to spread the word."
The pantry is located on the Floyd Campus, but sacks of food are also available at other GHC campuses.
Nicolas Magana, a GHC student and Eagle Scout, put together thirty sacks to distribute among other Georgia Highlands campuses for students who are in need of food security.
Angela Wheelus is the food pantry's director of operations.
Students can visit the Charger Food Pantry once a week. The hours available are Monday and Wednesday from 2 p.m. to 5:30 p.m. and Tuesday and Thursday from 11:00am to 3:00pm.
Damaris Wilson, a student at Georgia Highlands Floyd campus and the student coordinator of the Charger Food Pantry, said, "The food pantry is one of many things that Georgia Highlands is doing to be one of the most well-rounded colleges in our area. The faculty really cares for the students."
This service is completely free for students to use. All the student needs to do is fill out the "Charger Food Pantry Participant Agreement," which is located in the Student Services Center.
Students qualify for this service if their earnings are below the income listed for the number of people in their household. However, if a student is experiencing a crisis, they may receive food and basic necessities by simply checking 'crisis need' on the form.
A majority of the food received has come from Action Ministries and Community Share Ministry. In addition, the Charger Food Pantry has collection bins located on all six campuses for anyone who wishes to donate basic necessities or food.