Tomb of the Unknown Soldier replica visits Floyd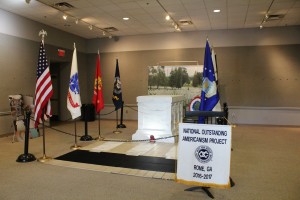 On Sept. 11 and 12 the Students Veterans Club invited the Exchange Club of Rome to display their replica of the Tomb of the Unknown Soldier. The replica was featured in the Lakeview building art gallery from 8 a.m. to 5 p.m. on both days.
The Tomb of the Unknown Soldier replica exhibit was open to the public. Local veterans and guest speakers from the Exchange Club came to speak to students and community members wishing to view and learn more about the monument.
According to Michael Peters, the Student Veterans Association president, "Classmates of mine did not know what the tomb was about, and it was interesting to see students awe struck and interested in the replica."
The Tomb of the Unknown Soldier in Washington D.C.'s Arlington Cemetery stands as a monument to acknowledge all United States military service members who died and whose remains were never identified.
The Rome Exchange Club's replica of this monument has traveled all over the country. It has been to places such as Nevada, Florida, Texas and Alabama.
Jim Belzer, Rome Exchange Club member, said, "We want people to know about those who sacrifice their lives. These people here gave up everything, even their identities."
The replica was constructed entirely in Rome, Georgia. Construction worker Phil Burkhalter of Burkhalter Builders, who is also an Exchange Club member, constructed the tomb and Chuck Shmult, a Vietnam Veteran, did all the replica's artwork. The tomb looks to be made out of marble; however, the marble look was painted on by Shmult to replicate the look of the real tomb in D.C.
Everything in the club's Tomb of the Unknown Solider replica is one half the size of the real monument. Everything about the tomb, from the lettering to the wreaths, depict the way the monument looks in Arlington Cemetery on a smaller scale.
Student Life Director John Spranza said, "It is important that students have the ability to see something like that because not many are able to visit D.C."