GHC named Aspen Prize semi-finalist
GHC has been selected as one of the 25 semi-finalists in the nation for the award.
The Aspen Institute awards a prize of one million dollars to a community college every two years. One hundred and fifty colleges were eligible to participate in the competition this year.
"Our faculty and staff work so hard to create a caring and supportive environment for our students. Being included in such a strong group of institutions who have committed themselves to serve that greater purpose is [the] validation of the work we do day in and day out," Dean of Institutional Effectiveness and Strategic Initiatives, Jesse Bishop, said.
Per the Aspen Institute, colleges are chosen based on their distinguished excellence in five key areas:
Teaching and learning
Certificate and degree completion
Transfer and bachelor's attainment
Workforce success
Equity for students of color and students from low-income backgrounds
The analysis of this empirical data was the driving force behind the selection and progression of GHC throughout the competition.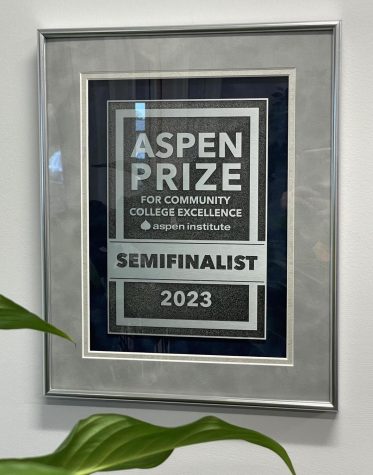 "A lot of institutions claim to put students first, but we have the data to back up our claims," Bishop said.
The time it took for the Aspen Institute to evaluate GHC allowed reflection on what makes the college a special place for the students.
"It is not just academics that help GHC make the impact it does," Sarah Coakley, Provost and Chief Academic Officer, said. "It is an 'all of the college' effort even to get nominated for something like the Aspen Prize."
The Aspen Institutes' recognition of GHC was due to the dedication of the GHC president, professional advisors, recruiters, campus deans and other faculty
"I hope our students and communities see this and know just how hard everyone here works toward student success, how focused we are on improving each and every term," said Bishop.
Coakley's Provost Speech on the Aspen Prize shed light on how GHC's nomination would not have been possible without the faculty's forethought for continued growth and success.
It was a joint effort from all the departments to help improve student experiences and prepare them for other challenges that may lie ahead.
"Just being recognized alone by the Aspen Institute College Excellence Program is incredible," Nicholas Godfrey, Director of Communications, said. "It is always wonderful to be recognized for the hard work of our students alongside the hard work of our faculty and staff."
"I'm deeply honored and proud to be a part of this team and engaged in this work with you," Coakley said in her Provost speech.
"I am excited for what's next for GHC, and I have a feeling we might get a shot at bringing home the 2025 Aspen Prize."