Review: HARDY's 'the mockingbird and THE CROW' fails to meet expectations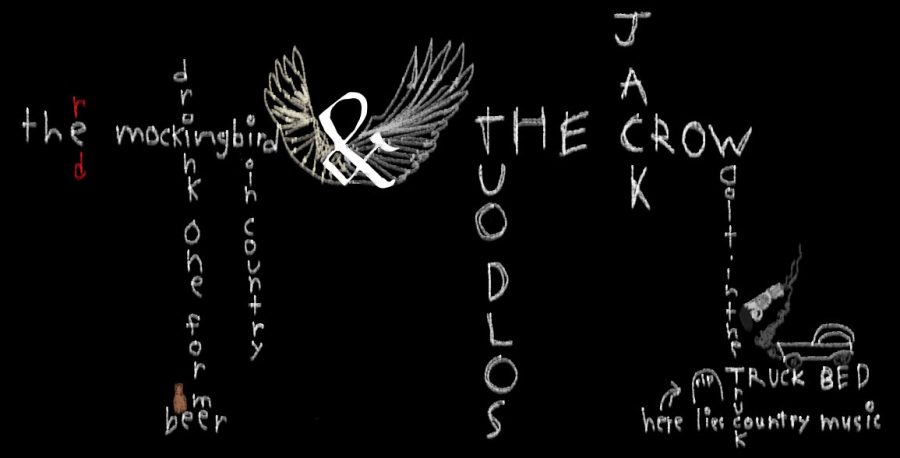 The new album by music artist HARDY, "the mockingbird and THE CROW," is a tale of two musical ideologies. The first half is what a mainstream country album would sound like. The second half is a genre-bending collection of songs that HARDY reserved for his own creativity. 
We have heard the pop-country genre itself with Lainey Wilson, Maren Morris, Dan+Shay and Walker Hayes that repeatedly play on country radio stations. We have also seen the revival of outlaw country music with Zach Bryan, Tyler Childers and Koe Wetzel. However, an untapped genre that has been missing is a country-rock album. That's what HARDY wanted to bring to us in the second half.
If you're anything like me, then you thought this album was something that country music has needed for a while. Mainstream country music has been heading in the same direction for too long.
HARDY lacked a lot of storytelling in the album. Songs in the first half – "beer," "red" (featuring Morgan Wallen), "i in country" and "screen" – all sound like typical radio grabs and commercial country music. They feature topics that you can hear in any country song that record labels churn out. 
Two songs stick out to me in the first half of the album. "happy," written from the perspective of the emotion, as a letter to people that deals with growing out of happiness as they get older. The other is "drink one for me," which sounds like a carbon copy of his earlier radio hit "give heaven some hell," but from the perspective of the loved one that has passed and is in heaven.
The album's first half ends with HARDY's final attempt at a mainstream hit, "here lies country music," which is well-written and deals with the "death of country music." It celebrates the big topics throughout its history and how sell-outs in Nashville have ruined the genre. 
I like the slow nature of this song and it could have fit right in with the second half of the album, but it ultimately confused me. It sounds like a typical song on the radio while also complaining about how the songs on the radio sound the same. A current, stereotypical country song that also complains about stereotypical country songs is just something that I can't seem to wrap my head around.
The album then comes to the middle track that the album is named after, "the mockingbird and THE CROW." The first half of the song is about HARDY's story and how he got where he is today. He exemplifies that, in a way, he had to be a "mockingbird" as a songwriter to start his career. He admits that he had to be somewhat of a stereotype and write about the cliché things that country music does to get where he wanted to be. Halfway through the song, it turns into the rock album that I was expecting. 
He starts off criticizing record labels for telling him and other artists what they should wear, sing about and how they should act once they sign their deals. HARDY goes on to say that he won't let record labels control his music or how he presents himself, comparing himself to a proverbial crow when it comes to country music. 
This same ideology can be applied to the next song on the album, "SOLD OUT," with HARDY essentially patting himself on the back for not allowing record labels to control him. I think that this was a great song to tell the people listening to his music that HARDY will make the music that he wants instead of what a record label would want.
The writing for the album goes back to its country lyrical roots in the second half, with "JACK," "TRUCK BED," ".30-06," "KILL SH!T TILL I DIE" and "THE REDNECK SONG." All of these songs seemed to have no lyrical value other than HARDY taking a country song and putting a guitar and drums behind it. 
This was an opportunity for HARDY to display his songwriting ability, given that is what he has been known for. However, the special part of this album was supposed to be the back half and to me, it just fell flat. It reminded me of the Nickelback sound from the "Dark Horse" album, but somehow was written worse lyrically. 
The saving grace from this album was "RADIO SONG," which featured Jeremy McKinnon, the frontman for A Day To Remember. It starts off with HARDY referencing all the clichés that country radio tries to push on to its artists to create a watered-down product. The delivery that HARDY displays in the song, as well as the background drums and guitar breakdowns, makes for a well-written song for an album that desperately needed it.
For the hype that was surrounding this album, and being a big HARDY fan as well, this album wasn't terrible but it didn't live up to expectations at all. It was a little confusing at times hearing HARDY talk down about the current state of country music and the ideas surrounding it, while also continuing to write songs that sound like the ones he complains about.
The first half of the album is just criticism about getting a song on the radio, while you could tell that the second half of the album is what he wants to do with his music. I had high expectations for this album to be groundbreaking in the country-rock scene, but to me, it ultimately came up short.