Academy Awards preview and prediction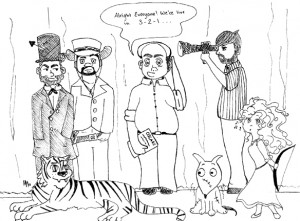 The 85th Annual Academy Awards will bring together an eclectic blend of films, showcasing the diversity in filmmaking of this day-and-age.
Take the category of best picture, with its nine nominees. There are films like "Life of Pi", a young, multi-religion obsessed Indian boy's story of survival as he and his Bengal tiger, "Richard Parker" cross the Atlantic.
Then there's Tarantino's latest effort "Django Unchained," which features a freed slave turned bounty hunter, bent on revenge and saving his wife from a plantation owner.
"Lincoln" is the screenplay adapted from a biography written by Tony Kushner to accurately depict the president's passionate pursuit of the abolition of slavery.
Academy Award Winner Kathryn Bigelow, who previously won best director for the Hurt Locker, stays with the military drama genre with "Zero Dark Thirty," her tale of the mission to take out the mastermind behind 9/11, Osama Bin Laden.
The other nominees include in the best picture category the consummate musical classic "Les Miserables" and "Argo," the story of a group of U.S. embassy workers' extraction in Iran by some creative operatives.
"Silver Linings Playbook," the tale of a man's breakdown and redemption after being sent over the edge upon witnessing his wife's infidelity is another nominee. An elderly couple's struggle to maintain a semblance of life and love after the wife suffers two strokes is the story told in "Amour."
A father and daughter fight to save their way of life against an encroaching conventional civilization and catastrophic flooding in Louisiana's bathtub in "Beasts of the Southern Wild," which is the final nominee in this category.
The latter two films include two of the nominees for best actress in very different stages of their lives. In "Amour," 85-year-old Emmanuelle Riva sets the record for the oldest actress nominated in the category.
Conversely, Quvenzhane Wallis of "Beasts of the Southern Wild," at the tender age of six during filming, is the youngest to be nominated.
For best original screenplay, Wes Anderson's all but snubbed "Moonrise Kingdom" will take home Oscar gold. Best adapted screenplay will be David Magee for "Life of Pi."
Best picture will go to "Lincoln," as well as best director (Steven Spielberg), best actor (Daniel Day-Lewis as Lincoln) and best supporting actor (Tommy Lee Jones) for his portrayal of Thaddeus Stephens.
Best actress will go to Jennifer Lawrence for "Silver Linings Playbook," while best supporting actress should be Anne Hathaway in "Les Miserables."
Don't be surprised if "Life of Pi" gets best cinematography for Claudio Miranda's breathtaking visuals, while "Prometheus" steals the award for best visual effects in Ridley Scott's prequel revisit to his sci-fi classic, "Alien."
Some notable oversights include Peter Jackson's "The Hobbit" which received only three nods. Also overlooked are Sam Mendes's "Skyfall" with five nods and Paul Thomas Anderson's "The Master" with just three nods.
None of the nominations, save for Joaquin Phoenix's best actor and Philip Seymour Hoffman's best supporting actor for "The Master," were in major categories.
Seth MacFarlane of the film "Ted" and television's "Family Guy" will host the awards show with impertinence or restraint, which is something for which he is not known.
The Dolby Theatre, formerly the Kodak Theatre, in Los Angeles will be the venue for the ceremony which will take place on Feb. 24 on ABC.