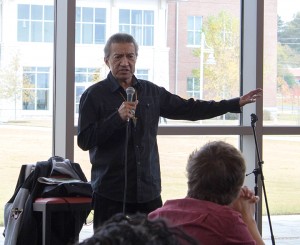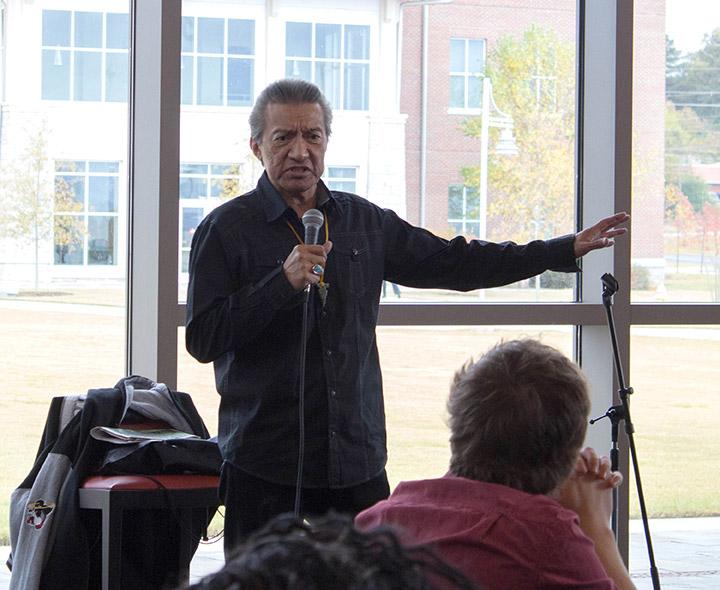 Comedian Larry Omaha drew a rather large crowd at the Cartersville campus on Nov. 7.
Students were laughing from the time Omaha first grabbed the microphone.
After the show, many students had a lot to say about Omaha's comedy act. Mathew Gibson stated, "Larry was pretty funny. I liked him and he has pretty funny jokes."
Jacob Hutson said, "I thought he was awesome. It was cool to hear about how much he travels. He is very good at what he does."
When he was young, Omaha had many encounters with the law. He knew he was headed down the wrong path and straightened up enough to receive a scholarship to law school. He became bored and quit law school and received a job with the government. Bored with his government job, he quit and made a beeline to Los Angeles to pursue his childhood dream, stand-up comedy.
Omaha's acting career is growing. He guest starred in ABC's "No Ordinary Family." He has roles in two upcoming horror movies–"21 Days" and "The Blackout." He's also appeared on Showtime's comedy special "Goin' Native," Comedy Central's "Stand-Up Revolution," "Comics Unleashed" and HBO's "Erotic Traveler."
Omaha's insightful view on multi-ethnic America has garnered him numerous television appearances and places him in great demand on the corporate comedy circuit.
His stories are hailed by the Los Angeles Times as "Refreshing, funny and universal."
His jabs at the hypocrisy of American society inspired the Las Vegas Sun to label him "A very hip comic who clicks with all generations."
Omaha also performed at the Paulding campus on Nov. 11 and the Floyd campus on Nov. 12.