Geology trip offers unique college experience and class credit for GHC students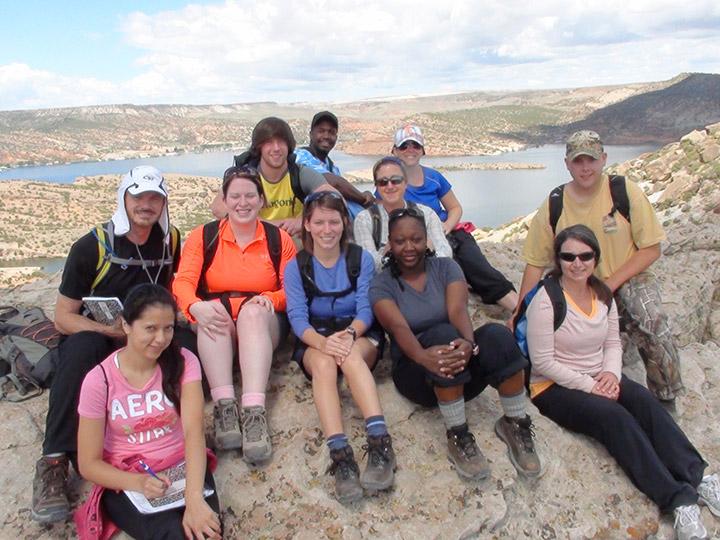 The travel dates for the summer field course to Wyoming lead by Billy Morris, associate professor of geology, will be June 16 through June 28.
The trip will give students the opportunity to earn eight credit hours completing Geology 1121k, physical geology, and Geology 1122k, historical geology, through hands-on studies in some of the most geologically rich locations in the world.
It is mandatory for the participating students to meet in the Floyd campus' geology lab on June 9-12 for orientation, lab work and testing. Students will earn course grades during this time.
"Geology is best learned outside and we always learn that the world just isn't as simple as the textbooks present it," said Morris.
One of the first locations scheduled for the trip is the Front Range of the Rocky Mountains. This will include a visit to the Red Rocks Amphitheatre and the nearby Dinosaur Trail in the Morrison Formation.
The trip will stay in Casper, Wyoming, which is on the banks of the Platte River, for a few days. Here, students will identify rocks and minerals, study paleontology, topography, stratigraphy, structure and geologic mapping.
The trip will stay for one night in Cody, home of the Buffalo Bill Historical Center, before heading to Yellowstone national park.
Once in Yellowstone, the trip will stay in cabins in Canyon Village for several days. While there, students will study hydrothermal activity, volcanism, ecology and environmental policy. The Grand Canyon of Yellowstone will also be within walking distance.
The trip will also stop in Colter Bay Village on the shore of Jackson Lake in Grand Teton national park, and in Kemmerer, WY, where students will be able to collect 45 million year old fish fossils.
Morris said, "What I'm most looking forward to is exploring with students. This experience allows us the freedom to go to wild places and see new things. GHC students are always ready to hike the next mile just to see what it brings, and to ask questions that may not have an easy answer."
The cost for the trip will be $1,600, not including tuition, or other college fees. The trip does not cover any spending money for food, souvenirs or other incidental expenses.
Students chosen to participate in the course will be required to pay a $400 deposit immediately in order to hold a seat. The remaining $1,200 balance are due in two installments of $600, the first on March 1, and the second on April 1.
More information can be found on the website: http://www.highlands.edu/site/faculty-billy-morris-summer-field-course-in-wyoming.
Students interested in participating should complete and submit the application found on the website listed above. Space is limited, and participation is not guaranteed.
Students who are interested in the trip may also contact Morris at [email protected]