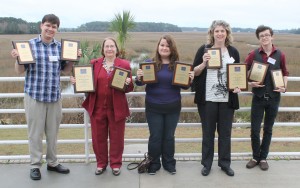 Members of the Six Mile Post staff attended the 63rd Annual Southern Regional Press Institute (SRPI) held at Savannah State University Feb. 20-21.
The SRPI consisted of an opening panel, two days of workshops and the Milledge/Owens Awards Luncheon on the last day. The workshops were taught by a diverse group of media professionals, some of whom were alumni of Savannah State University.
The media professionals ranged from a CNN correspondent, local radio personalities, music industry professionals, journalists and many others.
The SRPI was an opportunity for professionals in the media industry to give back and share their experience and knowledge with the professionals of the future. They spoke of how important the use and impact of social media is in today's society.
Press institute leaders encouraged students and mentors alike to live-tweet the happenings during the event, and nearly everyone involved was tweeting updates, quotes and advice with the hashtag #SSUSRPI.
The hashtag helped to represent the main theme for this year's press institute, "Social Media in a Global Society: Ethics, Urgency, Accuracy."
In their workshops and panels many of the professionals gave examples of how they use social media daily in their jobs. They also said that people should be open minded and knowledgeable about up-and-coming social media.
Awards were announced and presented during the Milledge/Owens Awards Luncheon on Feb. 21. Hollywood producer and casting director Reuben Cannon kicked off the luncheon as the opening speaker.
Newspapers, articles, and pictures from several colleges for the 2013-2014 year were submitted to be judged. The Six Mile Post brought home a total of eight awards.
Five of the awards went to individual staff members, while the other three were awarded to the Six Mile Post overall.
The Six Mile Post took first place in the category of Best Overall Newspaper, two-year division, and took second place in both Best Web Page and Best Online Newspaper, two-year division.
Antonio Garcia, managing editor of online, won first place for Editorial and Column Writing, two-year division. Second place in this category was taken by Derweatra Hammock, managing editor of design.
Ryan Jones, Six Mile Post chief photographer, was awarded first place in the Photography category, two-year division. Second place went to Pedro Zavala, editor-in-chief.
Former Six Mile Post assistant editor Sarah Lane won first place in the Sports Writing category, two-year division.
The awards did not stop there as Six Mile Post advisers Kristie Kemper and Cindy Wheeler were both awarded the Wilton C. Scott Award for Excellence in Scholastic Journalism.
Representing the Six Mile Post at the press institute were Ashlee Gilley, Jones and Garcia. Kemper and Wheeler were also in attendance.