Slam poet G. Yamazawa performs on Floyd campus
Slam poet G. Yamazawa entertained a lunchtime crowd on the Floyd campus Nov. 10.
"He had you on the edge of your emotions. His words were strong, but they were also humorous," said Mychael Frazier, criminal justice major.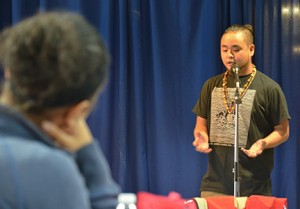 John Spranza, Floyd student life coordinator, estimates 100 people saw all or parts of the performance, which took place amid the construction currently underway in the student center.
Spranza thought Yamazawa put on a "really good show," making the best of a bad situation in terms of a venue filled with construction noises.
"He took command of the audience, and once he got started, all the distractions fell away," Spranza said.
Yamazawa has been a finalist in numerous competitions. He and his team won the 2014 National Poetry Slam in Oakland, Calif.