Susan Claxton, professor of sociology and human services coordinator, explained what gave her the inspiration for writing her book "Just Keep Praying: A Journey about Life, Death, and Living" at a book signing and presentation hosted by the Old Red Kimono, Jan. 29.
This is Claxton's first book, and she has a second book in the works as a continuation to this first one.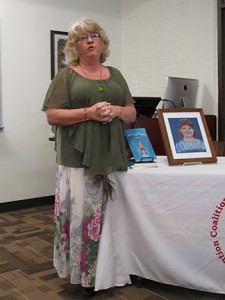 Claxton said the inspiration for the book came from her daughter's death and how she learned to deal with it.
The presentation, which was held in the Floyd campus library, began with a memorial slideshow of pictures of Claxton's daughter, Felicia Claxton, at different times in her life.
After the slideshow, Nancy Applegate, professor of English and adviser of the Old Red Kimono, introduced Claxton and talked a little about how Felicia Claxton's death had impacted her.
After Applegate's introduction, Claxton stood in front of the room and thanked everyone for coming.
She then began to recount the heartbreaking events that led her to write the book and brought everyone in the room to tears.
Several others, family and friends of Claxton and her daughter, also spoke about the impact of Felicia's death on their lives.
Claxton said after Felicia died she was depressed and even questioned her faith. She went on to say that after having gone to workshops that dealt with death and talking with her preacher, she came to the understanding that death is a part of life and is not something that we should let overwhelm us.
One of Claxton's main drives in writing this book was to inspire and motivate people who are going through the same thing. She believes people need to be able to talk about it without being uncomfortable and that others should be there for the griever when they are upset.
Claxton's view is that "Grief has no timeline, grief is unique and it is OK." She hopes that through sharing her experiences she can help others deal with their grief.
Those who missed the signing and were unable to get a copy of the book can visit Claxton in her office (F-144) on the Floyd campus, where she has extra copies.
The book is also available on Amazon.com.