Student life director began GHC journey as a student leader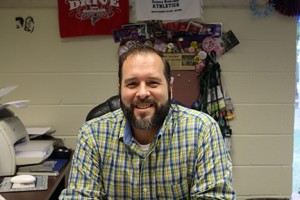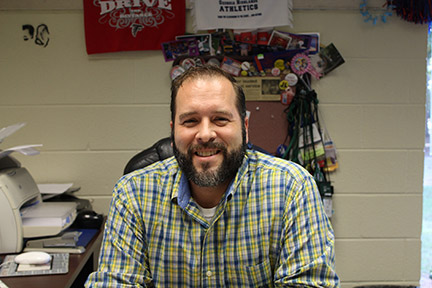 John Spranza became student life director at Georgia Highlands in January of 2003, but his experience here began long before then.
The spark that set ablaze his interest in student affairs started when he was a student at GHC (it was Floyd Junior College at that time).
As an undergraduate, Spranza was involved as a staff member of the Six Mile Post, student government and intramurals while also working for the Rome News Tribune.
From there he went to West Georgia and remained involved in student activities, participating in clubs and Greek life.
Spranza later worked at West Georgia in the Admissions Office, and when an opening as student affairs coordinator appeared at GHC he decided he would apply.
"I think my experience as a former student and all my involvement as a student made me a good candidate for the position," Spranza said.
One thing he likes to emphasize is that "college is more than just classes." He believes he got more from his involvement outside of the classroom than what he did learning in the classroom.
Spranza said that though it can be difficult to get students to participate in college activities, it is rewarding to watch students grow, become more involved and communicate with one another while enjoying their time on campus.
"That was the kind of philosophy I wanted to bring to students," he said, "to give them the opportunities to be involved outside of class and to engage, to develop those skills that could be translated to real world experiences."
Bringing comedians and newly established artists to perform at GHC helps draw students in as well as club roundups, Fall Frenzy, Spring Fling and the Week of Welcome, according to Spranza. GHC has seen performers go on to receive national exposure and some of the comedians go on to Comedy Central. Spranza thinks it is really nice to be a part of that.
Spranza said his favorite moment while working here is "any time a student really enjoys the experience we put on for them."
Giving students the opportunity to see and hear things they haven't before is rewarding as well. As student life director he says it is nice to give students "the chance to say, 'hey, that's pretty cool.'"
His advice to incoming freshman and students is to "Get involved and take advantage of the opportunities that are out there."
According to Spranza, college is about making memories.
The experiences in college are the "stories that persist after graduation."
He said there's bound to be something to appeal to each student.
Spranza also said that if there's something students would like to see or try, they should talk to the student life director or coordinator on their campus since they are always open to new ideas.
Todd Jones, vice president for student affairs, said that "Spranza remains a huge advocate for student rights and in providing students with leadership development opportunities through the student life department."
Jones also speaks of their working relationship. He said, "John and I have worked together for over a decade and I have come to rely on him in regards to student issues and the potential impact some of our institutional decisions may have on students."
Outside of his job here, John Spranza is working on his Doctorate of Education in Educational Leadership and Higher Ed. Administration at Georgia Southern.
He has this fall semester and spring semester of classes left before he begins writing his dissertation.