GHC police car logo designed by student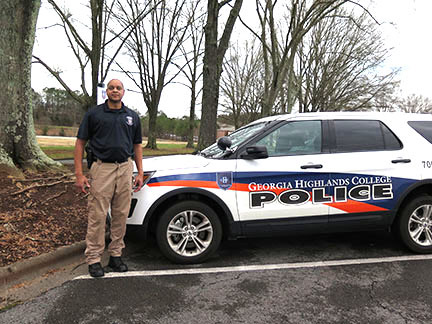 There were eight submissions for the police car logo contest, but only one could be chosen. Participants worked on their designs and knew that if they won, they would receive a $50 gift card.
GHC Police Chief David Horace looked over each submission in search of the perfect logo for GHC's very first police car. After going over each entry, Horace chose Kendra Dee Robinson's graphic design, which featured the school shield.
Though all entries were wonderful, when asked why he chose Kendra's, Horace said the other entries "looked more athletic" and included "the athletic logo with the Charger head."
According to Horace, Kendra's design represented GHC as a whole. Though all designs involved the college in some way and were very well designed, Horace said, "We wanted to stay in the theme with the entire campus."
Kendra is a pre-nursing student on the Floyd campus.