Georgia Highlands to say farewell to long time professors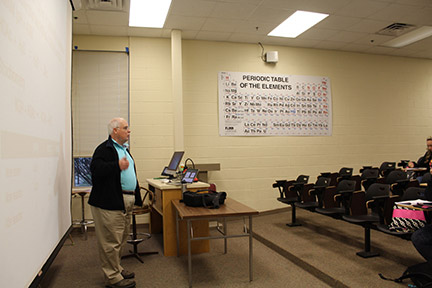 At the end of the semester, Georgia Highlands will say farewell to Harvey Moody, a long time professor of chemistry on the Floyd campus.
Moody began his career with Georgia Highlands 21 years ago, starting in August of 1995.
Before teaching chemistry at GHC, Moody taught the subject for 13 years at the United States Air Force Academy in Colorado.
Prior to teaching chemistry, Moody served as a pilot in the United States Air Force for 25 years and has also trained more than 150 students in flight, logging over 3000 hours in the air.
For his own education, Moody attended Louisburg College for two years before moving on to the University of North Carolina at Chapel Hill to earn his Bachelors in chemistry, and later attended West Virginia University, earning his doctorate in chemistry.
When asked what he loved about teaching, Moody said, "It is exciting to take someone who doesn't know about a certain topic or area and you give them a little knowledge, and they get excited and start learning the subject and go much further on their own."
He continued, "What I'll miss about teaching is my association with the students, faculty and staff, but I'm old! I've hit an age where I am starting to slow down now. If I'm going to teach students, I want to be effective. I want to leave teaching while I'm still effective."
After retirement, Moody plans to use his free time to work on application development and has aspirations to write a mystery novel.
____________________________________________________________________________________________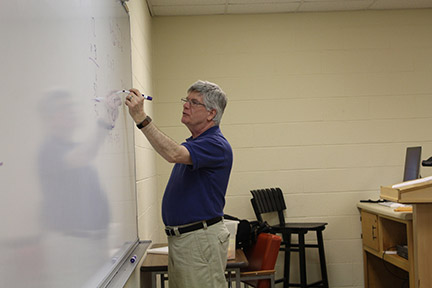 After 40 years of teaching, 18 of which were spent at GHC, Johnny Duke, a professor of mathematics on the Floyd campus, will retire.
Duke began his teaching career in 1977 at Memphis University School where he taught mathematics and bible at the 7th grade level for three years.
After leaving MSU, Duke went on to teach mathematics at Lipscum University in Nashville, where he also earned a master's degree in mathematics.
With his master's in hand, Duke went on to spend his next 8 years serving in ministry in Louisville, Ky. and working towards a doctorate in Christian education which he eventually earned in August of 1990.
Duke then took a position at Shorter University where he taught for 16 years, also teaching in Parallel for 8 years at Floyd College.  In 2006, Duke took a full time position with Georgia Highlands College, one year after the school changed its name.
When asked why he was retiring, Duke said, "There are some things I'd like to do before I get too old. There is more to life than work, and I'm ready to do those things. There is also a three year old redheaded little girl in Nashville I'd like to spend more time with."
After retirement, Duke plans on spending his free time pursuing the things he enjoys like the outdoors, photography, friends & family, God and grandchildren.