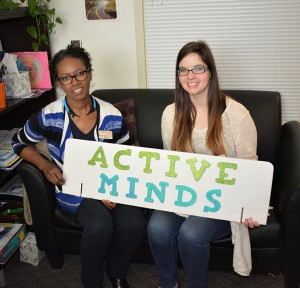 Active Minds is a student-created organization that seeks to normalize positive mental health care. Its four-fold goal is as follows: to reduce the stigma surrounding mental health issues, normalize seeking help, educate the community and provide resources for getting help.
Active Minds is a way for students to bring awareness and discussion to their peers, and to engage in activities that foster community.
The club was originally created as one student's mission to change her campus' atmosphere surrounding mental health. In an effort to reduce the number of those who suffer silently and to encourage open discussion, club founder Alison Malmon created a model that quickly became the non-profit organization known as Active Minds, Inc. since 2003. In the words of Malmon, "We don't all have mental illness, but we all have mental health."
Mini events, such as creating stress balls or working with art supplies, are just some of their plans for introducing anxiety relief that they stage throughout the year. An upcoming project for the Spring Fling is to recognize notable individuals who have suffered from mental disorders, to help the student body understand the prevalence of mental disorders.
Active Minds operates on the principle that the more students know about mental health, the more it will be valued. Thus, by exposing the normality of struggling with disorders, it hopes to encourage students to live openly and healthfully.
The adviser to the club, counselor Dorothy Morgan, directs students to whatever help they may need. She and other Student Support Services staff help to guide students in choosing appropriate resources for help both on-campus and at home. Further information may be found at activeminds.org.