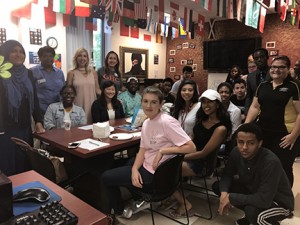 Students from Georgia Highlands' Students Without Borders club recently went on a field trip to Kennesaw State University's Global Village.
After visiting with the International Student Association, members of Students Without Borders were able to see exactly how many different nationalities of people call Kennesaw State University home.
Kennesaw State has students from more than 120 different countries. "When we first stepped into the room that houses the International Student Association, I was in awe," said Diana Fain, a Georgia Highlands student. The room is decorated with the flags of all of the countries where students who are a part of the association are from.
Each member of the International Student Association spoke a bit about his or her country of origin. "I especially liked the guy from Jamaica," Fain said. "He had such a unique accent and spoke about how different schools are in Jamaica." "The best part of the trip was meeting the students," said TeKirah Williams, another member of Students Without Borders.
The club members were able to ask the international students as many questions as they wanted. They were even able to compare and contrast each other's lives. Ending the Oct. 13 trip, their last stop was at KSU's dining hall, The Commons. Going along with the "international" theme, there was a variety of different foods to pick from. "I literally walked around the place twice trying to decide what I wanted to eat," Williams said.
Faculty adviser for the Students Without Borders club and Assistant Professor of Communication Alexandra MacMurdo Reiter said about her visit to The Commons, "There are so many delicious food choices from designing your own stir-fry bowl to getting a custom pressed panini sandwich, having fresh alternatives such as the salad bar or delicious sushi or going to the good old stand-by choices of pizza, hot dogs or hamburgers, that it can be a bit overwhelming!"
Students Without Borders enjoyed being able to learn and experience different cultures visiting the Global Village. "In the future, I encourage anyone to visit," said Williams. For anyone interested in stopping by and checking out Kennesaw State University's campus, dining hall and The Commons, the areas are all open to the public.