New building renovations are coming to the Paulding campus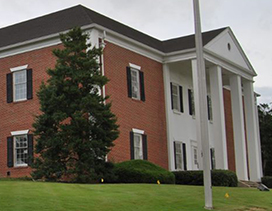 The Board of Regents has donated 4.1 million dollars to renovate the Winn Building at the Paulding campus. Construction began last spring, and the building is expected to be ready by fall of 2019.
Due to the smaller size of the Paulding campus, not all classes are offered. This means that many students must travel to the Cartersville, Floyd or Marietta campuses to achieve their degree.
Paulding campus students have much to look forward to as more classes will be offered once the Winn Building opens.
The Winn Building was donated to GHC by Paulding County in 2010. Since the time of the donation, the Paulding campus has grown, and with that growth comes expansion.
"We are going to be offering chemistry. That will be very nice since we don't have a chemistry lab here at Paulding," said Paulding Site Director Joy Hambrick. They will have a health department in the Winn Building, and a new gym that will be  next door. Student will be able to take P.E. there instead of having to go to other campuses for P.E. courses. Multiple exterior renovations are currently under construction.
Right now, students can visibly see workers building a new sidewalk. "The county is putting in a new staircase which will be much safer for students," Hambrick went on to say.
"I am excited for the new building. Students won't have to drive as far and will be able to save money on gas by staying closer to home," said sophomore Jamie Chavez.
To see more of the Paulding buildings that will be renovated by the Fall of 2019, please check out the slideshow down below.
[slideshow_deploy id='5760′]