Cartersville hosts third annual Comic Con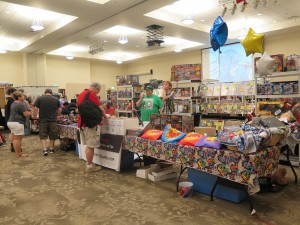 Going to this year's Cartersville Comic Con was like going to a flea market, but one completely dedicated to nerd culture. Vendors at the Con were selling various figures, art and costumes from across film, TV, comic books, novels and video games from all eras for fans.
At this year's event fans got to meet Savana Jade Wehunt, an actress who played the governor's daughter and various walkers on "The Walking Dead"; Aaron Brewster, a background actor also from "The Walking Dead" and "Captain America: Civil War"; Chris Silverbax, a self-publishing comic book artist; and Chris Garrett, a comic book writer.
They gave out free autographs for fans, took questions about their experiences and their upcoming projects and gave advice on how to break into the entertainment industry. According to Wehunt, "My favorite thing about going to Cons is meeting the fans and seeing how your work has impacted people."
In addition, fans got to participate in the Con's very first Cosplay contest, where fans got to dress up as their favorite characters and win money to spend at the vendors. There were three categories, which were youth, for the kids; closet, for those that bought their cosplay; and the handmaid, where fans got to show off their cosplay that they made by hand.
Rebecca Fant, a local cosplayer and winner of the handmade contest as Galadriel from "The Lord of the Rings," said, "If you want to get into cosplay, just jump right in, start small and have fun with it." The 2018 Cartersville Comic Con was held for the first time at the Clarence Brown Center across from the
Cartersville campus on Sept. 15. This also marks the third year that Cartersville has hosted a Comic Con.
Overall Grade: A
To see more of the 2018 Cartersville Comic Con, please check out the slideshow down below.
[slideshow_deploy id='5819′]