Study Abroad is a chance to experience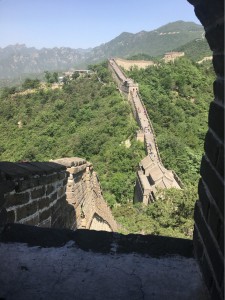 Studying abroad isn't all about the study. It's about getting out there and realizing how big the world really is. It's about growing ones character and truly identifying oneself.
When a person steps foot on foreign soil, often times they have high expectations for themselves. They are already so far out of their physical comfort zone that it doesn't seem too strange to step out of their mental comfort zone. A person should be ready to experience something life changing; and with high expectancy comes result filled actions.
Diana Fain, a GHC student who studied in China said, "I chose to study abroad because I love to travel and feel that it's a valuable experience for anyone. The most beneficial thing about my trip abroad was getting to meet new people and interacting with their culture. It allowed me to see how truly blessed we are in this country."
According to Fain, "The thing that changed me most about studying abroad was the fact that I was viewed as someone exotic because there are not many African Americans in China. I also found that the way most people purchase things over there is by bargaining and that was difficult for me, because I'm not a good negotiator."
When someone immerses themselves into another culture they are able to reveal their strengths, uniqueness, and weaknesses. Studying abroad takes away the blinding fog of a person's own culture and allows people to see themselves from many diverse perspectives.
From someone who can look back on the experience as a foundation to their learning, Assistant Professor of History David Hensley said, "Studying abroad as an undergraduate is a great experience that you remember for a lifetime… It will have a deep, lasting impact on you! I studied abroad as a college student, and it changed my life,"
Take the chance. Embark on a new journey. Because just as Professor of History and Director of Global Initiatives Dr. Bronson Long said, "Studying abroad is one of the best things you can do as a college student."