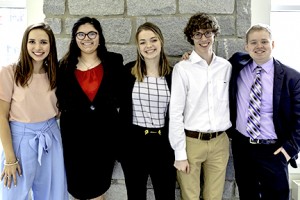 In GHC's annual public speaking competition, the first place winner is Sarah Gupta with a prize of $150. Her speech was on the topic of better sex education in schools.
Coming in with the $120 second place award was Abby Welchel. She told us of the negative impacts beauty standards are having today. In third place with a prize of $100 was Carson Graham, who conveyed her desire to resolve the decline in Lindale.
Nathaniel Car showed his appreciation for music as the highest form of art, bringing home the fourth place prize of $80. Lyons Nida spoke on Global Warming and won $50 for fifth place.
Another award was given based on who best articulated GHC's values of inclusiveness and freedom of expression. The five students who were presented with a GHC Values Award along with a $25 Target Gift Card were Nathaniel Carr, Trinity Fielder, Carson Graham, Nicholas O'Brien, Shereca Thompson.
Sixty-one GHC students took part in the competition held on April 12 at the Cartersville campus.
After presenting their speeches multiple times, the five finalists competed for first place Donald Green, GHC president, Leslie Johnson, dean of the Cartersville campus and student judge Erin Shurfo scribbled down notes and focused on every detail of the speeches before making their final decision.
Steve Stuglin, assistant professor of humanities, was event director. He was assisted by numerous volunteers.
Stuglin said he appreciated organizations that sponsored the competition. This years sponsors were the Rome Area Council for the Arts, Follett Bookstore Management, GHC Student Life, GHC CETL, and the GHC Honors Program.
A summary of the event along with more photos can be found at https://sites.highlands.edu/division-of-humanities/2019-speech-competition/.
To see clips of the speeches made by the finalists at the speech competiton,visit https://www.youtube.com/playlist?list=PLw68trX4XFBBWsVNqgTEefpEedVpsTp9R.