Injuries the new norm for today's athletes
There are many ways that sports have evolved over the course of generations, and it seems now more than ever, injuries are becoming a bigger part of the game.
Long gone are the days when "iron man" players such as Cal Ripken Jr. and Brett Favre, who would play all of the games that their team had.
Now, coaches are having players sit entire games sometimes to keep them healthy.
However, there lies a bigger issue under the surface: youth sports. From a younger and younger age, kids are expected to be on travel ball rosters in order to make connections.
Parents want the best for their kids, so they will sign them up every year. Then the coaches for these teams push the bar so high that injuries are bound to happen just due to overworking.
According to Stanford Children's Health statistics, 62 percent of sports-related injuries occur during practice. Football, bicycling and basketball accounted for roughly 585,000 sports injuries in 2021.
GHC is not excluded from injuries either. Two Lady Chargers are currently sidelined with offseason injuries: incoming freshman DeJanae Dennis-Cassanova and returning player Jada Alston.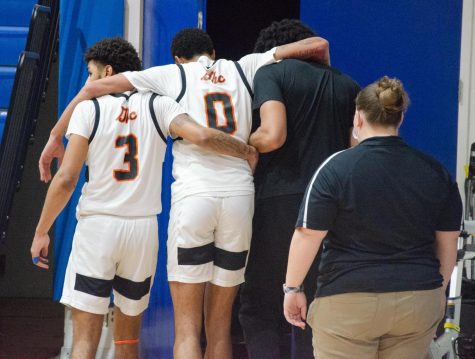 Dennis-Cassanova is highly touted by Lady Chargers head coach Brandan Harrell for her toughness. Dennis-Cassanova said that injuries are just a part of the game.
"An injury less than a week after arriving wasn't good and I came here to play. I've had my fair share of injuries," Dennis-Cassanova said.
Alston suffered an ACL tear in the offseason and will have to sit out the entire season recovering from the injury.
Alston was a fan favorite last season, winning the GCAA Defensive Player of the Year award and playing a major role in the Lady Chargers deep playoff run last season. She was expected to be the most highly sought after Lady Charger on the team this season.
The Lady Chargers were in the middle of a scrimmage against South Georgia Technical College when Alston said she felt something pop.
"It felt like labor pain or something. It was so painful that I just started screaming," Alston said.
The injury was the first of Alston's playing career.
Chargers team trainer Amanda Moore said that she has "seen injuries come in waves" since she first became a certified trainer in 2015.
"There will be times where we have a lot going on and then out-of-the-blue injuries pick up exponentially," Moore said.
The Doctors at KC Health published a list of things that they feel could prevent the rise of sports injuries. They said athletes committing to one specific sport instead of multiple sports would help decrease injuries. This allows a player to rest during the offseason of that sport instead of immediately having to jump in another one. The Doctors at KC Health found that ACL injuries are up 400 percent.
While the sports world is ever changing and new things will come along, injuries are the new norm in this practice-filled age.