Manufacturer's Roundtable discusses workforce paradigm shift
The Cartersville campus ballroom was the chosen venue for the Bartow-Cartersville Chamber of Commerce Manufacturer's Roundtable that took place on April 12, where leaders in the manufacturing industry gathered to discuss workforce issues and propose how to solve them. 
The roundtable had a total of 45 manufacturing, education and city leaders in attendance, such as Marc Collier, CTAE director and college and career coordinator, Bruce Thompson, labor commissioner for the state of Georgia, Alicia Barnes-Newton, outreach and development coordinator of the Etowah Scholarship Foundation, and Shannon Boyer, Cartersville High School work-based learning coordinator and CTAE co-department chair.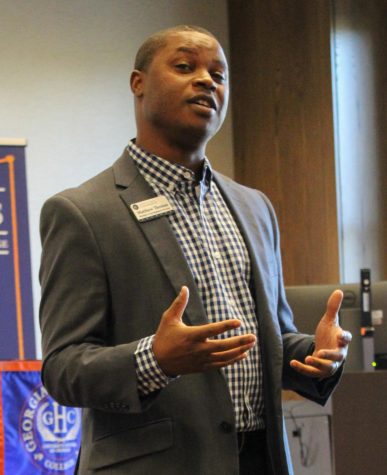 Workforce Development Director of the Bartow-Cartersville Chamber of Commerce, Matthew Thomas, said having industry and education in the same room will help solve a lot of the workforce challenges. "It'll build connections, create partnerships, and then… we can collectively collaborate on solutions that best serves the needs of our individuals, our talent base and, of course, our industries."
The Manufacturer's Roundtable was hosted by the School of Business and Professional Studies. School of Business Dean, Melanie Largin, School of Business Division Chair, Joy Hambrick and Cartersville campus Dean, Leslie Johnson, were present.
"One of the great things about the roundtable is it's an opportunity for people to get to know others that they otherwise wouldn't meet, shake a lot of hands, exchange business cards and information," Thomas said.
Collier said he, Boyer and two others "have been planning this as a way to get industry representatives into the same room with our local school systems because our Cartersville City schools [are] wanting to be very intentional about preparing our students for the industries in our area…"
Attendees were sent a survey prior to the roundtable about what they think the most concerning workforce challenge is today, which majority consensus revealed to be "staying competitive with increased competition for talent." Thomas also said the roundtable serves to bring awareness in the manufacturing industry and "fostering connections by… putting leaders in the same room."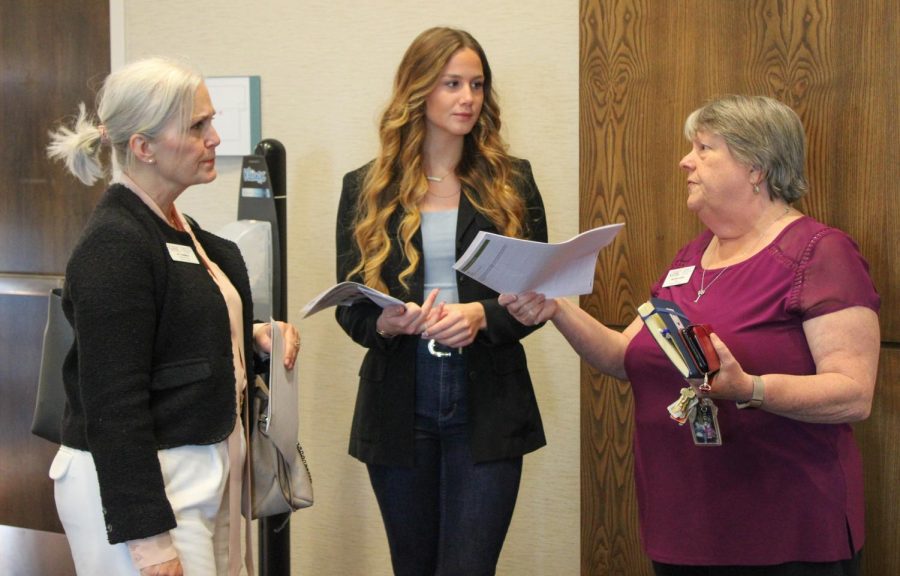 A few of the challenges discussed were gauging student interest in careers before high school, giving potential employees more incentives by engaging them and making them feel valued and keeping educators in the loop of changes in the industries so students can be better prepared upon graduation.
The most-discussed challenge was the need for a mindset shift around work structure, culture and the way older generations welcome younger generations into the workforce. Both generations have stereotypes that pigeonhole each other: Older generations think younger ones are lazy, entitled and don't want to work, and younger generations think older ones have a my-way-or-the-highway mentality with the unwillingness to consider alternative solutions or processes.
"…there's a lack of trust between the generations. And again, that's not something that's new," Division Chair of Business and Professional Studies, Joy Hambrick, said.
More people are demanding fully-remote or hybrid jobs after working from home during the COVID quarantine and finding they could get more work done in specific environments. Conversely, Hambrick said that in-person work helps with finding a mentor and getting hands-on experience with certain jobs, so a balance of both would be the most beneficial.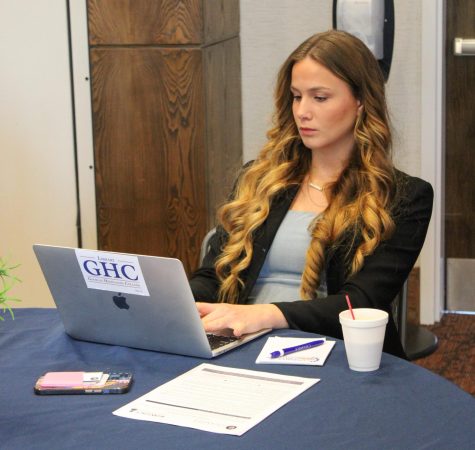 Miriam Lister, a Bachelor of Business Administration in Supply Chain and Logistics major, agrees that the workforce needs to adapt to growing concepts, such as better work-life balance and four-day work weeks.
"I agree that the older generation – that is hiring us – they do need to change their mindset and be open-minded and compromise, but so do we," Lister said. "I know a lot of people my age do want to work from home today, but they don't see the value in working in the office and working from home. Meet in the middle or do hybrid."
"I think a mixture is what this new work generation is looking for today, and I don't think that's something that should just be dismissed out of turn or any judgment…" Hambrick said.
The Manufacturer's Roundtable served as an eye-opener that industry leaders are listening to the concerns of all workers and preparing to welcome in the new generations, and not only making decisions based on spreadsheet statistics.
"…there are companies out there that are trying to accommodate to our needs as students that are about to graduate, and they want us to feel valued," Lister said. "And I thought it was very encouraging and motivating to my generation to see that they're actually open[-minded]."
Largin said she thought having GHC as the venue for the roundtable was "a tremendous opportunity to get visibility" for the college, the manufacturers and the students.
"I'm hoping in future times that we'll be able to have more and more students that come. I think it's a great educational opportunity from that perspective as well, so students can hear what jobs actually look like and they may want to try to obtain," Largin said.
Thomas wants citizens to know "the Chamber of Commerce is here in workforce development, but entirely as a whole, to support the growth, to support the strength, support the vitality of our companies, our education partners, and we're really thankful to just play a role to be convenient."