Highlands' Chargers baseball expecting a great year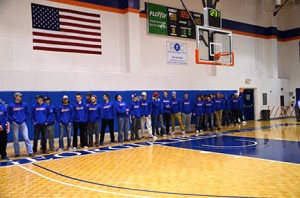 In 2015, the Georgia Highlands Chargers Baseball team was left hungry after the premature ending of the postseason. The team has been working hard ever since to make 2016 its most competitive season yet.
Coach Mike Marra disclosed that the team's goals this season are "to compete for the conference championship and the tournament championship while advancing further into the playoffs with a chance to compete for the national title."
The team this year is veteran-loaded with seven returning sophomores and several more transfer students. According to Zach McCrum, a pitcher for the Chargers, every position on the field has a veteran leader who keeps the young freshmen motivated and concentrated on getting the team to the next level.
The team had a busy off-season which included scrimmages with several four-year schools and rigorous training programs to prepare the team for the tough competitive season that awaits them.
The team has acquired some talented players that it hopes will help the team push through the competition on its way to the title. One of the talented young players the Chargers gained this year is freshman and third baseman Brandon Bell.
Veteran player Zach McCrum stated that "Bell is unlike any other freshman, or rather any other player I have ever played with. The kid is a beast."
The 2016 regular season will be filled with a plentiful amount of home games at the new LakePoint Sports Center, with more than half the conference games at home.
The first time the fans will be able to see the Chargers play will be on Friday, Feb. 5 at 5 p.m. at LakePoint. Marra is confident that they have a very talented and skillful team that the supporters and community can be proud of and will also enjoy watching. He hopes that the fans and the community will be able to come out and support the team and make the most out of the home field advantage.