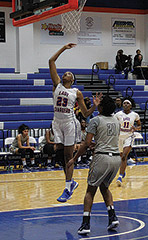 The Lady Chargers ended their season after falling 78-74 to Central Georgia Tech in the GCAA semifinals on March 2 at South Georgia Tech. This made the team's overall record 19-13. Only five Lady Chargers were eligible to play at this game.
GHC only had five players because some of the team was ejected after an argument occurred between some of the Lady Chargers and some of the Central Georgia Tech players.
Brandan Harrell, head women's basketball coach, said he feels terrible about how his team ended the season. "It was really unfortunate," remarked Harrell.
Even though it was unfortunate, Harrell said, "Under the circumstances, I could not have asked for our players to do anything different."
Harrell said that the way players were ejected from the game was not appropriate. There were some of the Lady Chargers who did not deserve to be ejected, according to Harrell.
Harrell said, "I think the officials did the best with what they had to work with but there is certainly a need for officials to be able to use video in reviewing incidents like that. The video is pretty clear. It's frustrating to go back and see that."
Kateryna Khomenko, a sophomore Lady Charger, echoed Harrell's remarks. She said, "The game felt really unreal. It was crazy to play in that kind of situation."
"We were all shocked about what just happened because we've been working the whole year to play a game and we basically didn't get a chance to play," Khomenko continued.
About going forward, Harrell remarked, "Maybe we'll use this as a catalyst to kind of change the way we do things."
Khomenko said, "We're going to learn from it and hopefully it's never going to happen again."
Prior to this game, the Lady Chargers defeated Andrew College 75-46 in the GCAA quarterfinals at the Floyd campus gym on Feb. 27 to advance to the GCAA semifinals.
About the season as a whole, Harrell said that he thought his team was going in the right direction.
"We were playing well towards the end. I really though our best basketball was ahead of us," said Harrell.
Harrell said that the Lady Chargers overcame so much throughout the year.
Harrell continued, "I hurt so much for them. They didn't have a chance to fully go through the conference tournament. That's pretty heartbreaking."